London 2012: What motivates Olympic volunteers?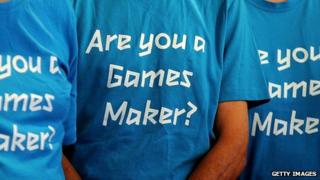 In what's been dubbed the biggest volunteer campaign since World War Two, training will start this weekend for the 70,000 people charged with "making London 2012 happen".
Games Makers and Young Games Makers will be on the frontline of helping visitors and athletes in London and across the UK, during July and August.
At that time of year London would expect to see three million visitors, with a further three million tourists across the rest of the country, according to Visit Britain.
There is apparently no shortage of appetite for volunteering - more than 200,000 people applied and 100,000 were interviewed to be Games Makers.
The successful applicants will be joined by 8,000 London Ambassadors, who will be stationed at visitor attractions and Tube or train stations to help people find their way around.
Up and down the country, councils are also holding similar schemes and volunteers are eagerly waiting to find out if they have been chosen.
But it won't be easy work, volunteers are expected to train for at least three days, work for up to ten hours a day, for a minimum of 10 days, provide their own transport and accommodation - all with a cheery smile.
Here, three volunteers explain what motivates them to get involved.
Gillian Douglas - Games Maker
Gillian, 49, works in the volunteer sector and is from Inverurie near Aberdeen. She doesn't know exactly what she will be doing in the Games but knows she will be part of the venue communications team in London.
"I had my interview last May and found out a few weeks ago - I was absolutely delighted having waited so long.
When the announcement was made that we would get the Olympics, I said I would love to be involved in some way. I've always been a big fan of the Olympics and always been around volunteering.
As a young person I was involved in sport as a swimmer and a gymnast - a lot of sport depends on people giving up time for groups to be successful.
We have a really good swimmer from Inverurie - Hannah Miley - so to see someone like that [hoping to go to the Games] is a great inspiration.
I have two part-time jobs, both of which depend on volunteers to help.
I spend 20 hours working for Chest Heart and Stroke Scotland (CHSS) working to improve the lives of people affected by the illnesses and I co-ordinate a befriending service for elderly people.
Volunteers are crucial. To give you an example, at CHSS, we have 1,100 volunteers and we calculate the value - in other words if we had to pay these people - at something like £1m a year.
Volunteering has always been part of my life, I did a charity trek in the Sinai Desert in 2004 and raised £4,000 for the Edinburgh Medical Missionary Society and Bethany Christian Trust.
I also did the Edinburgh Moonwalk in 2011, walking 26.2 miles overnight.
As a family we got some tickets for Wembley so I'm hoping to go to that but my shifts will depend on it.
My husband and two sons are going so if I'm working then I'll let one of my son's friends go.
I want to be part of it and meet new people who are as passionate about it as I am.
The phrase Locog uses a lot is that the Games Makers will be the friendly faces of the Games and if we can be that wherever we are in the country, whatever time of day and night we can, it creates a good impression of the people of our country.
It is a big commitment because of where I live but I think it's a once in a lifetime opportunity. I knew there would be obstacles and would have to be prepared to put up with them.
I'm 50 just before the Games start. It'll be a hard working birthday. I didn't realise until recently how integral volunteering was a part of me so being a Games Maker really will be the icing on the cake."
Juliette Llewellyn - London Ambassadors
Juliette, 40, is from Cardiff. She saw a poster advertising the scheme while staying with friends in London. Juliette has been disabled since 1994 after a serious illness. She has been blogging in the run up to the Olympics and will be based at Southbank in August.
"Going to London is a very positive experience. There is an eclectic mix in London and lots of things going on. Even travelling on the Tube has been a positive experience. It helped me to recover because I had to think about what I was doing and learn how to read the tube map.
I enjoy London and wanted to pass that on to people who were coming. I enjoy travel but I have been limited over the years.
I'm starting to get better at exploring areas in Britain and volunteering at the Olympics is a way I can be involved with other people. On top of that was to be part of Olympic Games in some way.
I have been around the outside of the Olympic park and it really opened my eyes. I was quite shocked at how rundown the area was before but on working my way around the park and shopping centre, it all seemed positive.
I know there are some controversies around it but as an outsider I think it seems to lift the area. You've going to have the world's top athletes going there and that has a certain energy of its own.
For a long time I was housebound so to be able to make a trip to London and start to begin to walk around is a major achievement.
When I first became ill I couldn't even lift a plate and struggled with daily things. I got to a stage where I felt I could start doing something but I am unable to commit to a full-time job as my health is too unstable.
I do voluntary projects in Cardiff, and London Ambassadors seemed to be a manageable way I could expand away from home and hope to increase my skills.
When I found out I was really excited and people are supporting me to do it. A couple of my friends in London are more keyed into what's happening but others think I might be carrying the torch or something - so I try to explain what I will be doing.
Generally there is a positive response and it's a good talking point.
I wanted to blog about it as it's a unique time for us all. For me it adds a creative aspect and it will be a record after. As I'm learning about London, I hope it will help people from outside London too."
Terry Mackintosh - Weymouth and Portland Ambassador
Terry, 64, from Dorset will be part of a team of 800 ambassadors who will manage crowds in Weymouth where 500,000 people are expected to descend for sailing events over the Olympic and Paralympic period. Terry retired and moved from Buckinghamshire in 2010.
"I didn't think about volunteering until I saw the advertisement and suddenly realised that we were near Weymouth so that was quite exciting.
It was an opportunity to do something which wouldn't happen again in my lifetime and as I've got a bit of time on my hands I put my name down.
I didn't think I would get anywhere near it. The next thing which came along was Weymouth Carnival which was a tester for the Olympic events so I went there as a volunteer and had a great day.
It was hard spending the day on your feet with thousands of people asking questions but I found the whole experience exciting and rewarding.
The last [UK] Olympics were the year after I was born so this is something I can tell my grandchildren about. Something I can generally crow on about when I'm really old.
I quite like sailing and always wanted to get my own little boat. We didn't buy any tickets but if I hadn't been a volunteer I'd probably be popping down to experience it - these are unique events.
My role is yet to be decided but I would be happy to do anything I can to help.
My grandchildren think it's wonderful. They think ambassadors are really important people so I play up to it.
After the carnival, the Weymouth & Portland Olympic organising committee sent me a certificate and badge saying I had taken part.
I've always been that sort of person to get involved. We take so many things out of life and take things for granted. We wonder how things happen, how that hedge gets cut or the roads fixed.
I used to moan a lot about the council and then I thought 'get up and do something about it'.
If you want something done then you need to get up and be counted.
Who knows, next year I could be in a wheelchair. You have to take life and opportunities as they come, and not regret them."