What awaits William in the Falklands?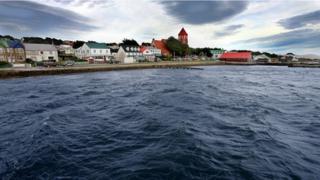 There are just a handful of things Flight Lieutenant Wales needs to know about the Falklands, according to the tour guides on the Islands.
Firstly, he needs to know the difference between "town" and "camp". "Town" is what the locals call the capital Stanley where most of the three thousand islanders live, and 'camp' is what they call everywhere else, all 700 islands.
It is "camp" that Prince William will see a lot of on his RAF search and rescue patrols. From the skies, you can see miles and miles of rough, rocky moorland populated by a few hardy farmers and half a million sheep. There are no trees and it is constantly windy.
If he looks at the ground closely, he will spot the marks of war, old craters that dot the landscape from the bombing campaigns 30 years ago. There is even a golf course that has made a feature of them and turned the craters to bunkers.
He is also unlikely to miss the large group of bomb disposal experts, on their daily search for unexploded ordnance on the high ground at Sapper Hill near Stanley, one of the last brutal battlegrounds of the Falklands war.
Patriotic feelings
The prince will no doubt witness extraordinary beauty here too when it comes to the variety of wildlife, including sea lions, penguins and birds. Particularly Volunteer Point, where there are two miles of white sandy beaches, currently home to a huge colony of king penguins.
He will have to get used to the word "Che". It is a term of endearment that many Falklanders frequently drop into conversation. It seems to be the South Atlantic territory's equivalent of "duck" in Derbyshire and "bab" in Birmingham.
Thirdly, he will be invited to "drop in" for tea and biscuits anywhere on these islands.
That certainly seems to be the case in "town", where in the midst of the increasing hostile rhetoric from Argentinian government, which claims the islands as its sovereign territory, it is a struggle to find anyone who does not demonstrate fiercely patriotic feelings for Britain.
Many see the decision to deploy Prince William as a bold marking of territory by UK, although the Ministry of Defence maintains it is a routine deployment for an RAF Search and Rescue officer, which is not politically motivated and will not include any ceremonial duties.
Military sources say his deployment will be a busy one, with previous search and rescue patrols here being called out on a regular basis, either at sea rescuing stranded fishing crews or to help those on the more isolated islands.
'Run up and scream'
But if Prince William does get a chance to visit Stanley, he, like most first time visitors here will no doubt be taken aback by how British this distant, isolated territory looks and feels.
There is a cafe and tea room, close to the post office with a red pillar box and two red telephone boxes outside; the police station is on the other side with three classic bobbies' hats in the window.
It also seems like there is only one of everything on the islands, one primary and secondary school, one hospital, one football pitch. It is said the crime rate is low here too, with just three people in the one jail.
One place where Prince William is guaranteed a good reception is in a tiny white wooden building overlooking Stanley Harbour. It is home to the Falkland Island Girl Guides where this week's meeting ended with a group of girls having an excitable discussion on what the royal deployment means to the island.
"I really want to meet him and run up to him and scream," says 14-year-old Michaela Clifford. "He's like he's a pop star to us. It's really exciting."
Her friend, 13-year-old Jessica King. adds: "Prince Charles came down before we were even born, but my mum's met him, so it would be good to see William. After all, he's going to be future king of our islands too, it would be nice to meet him."