Newspaper review: Freezing Britain focus of papers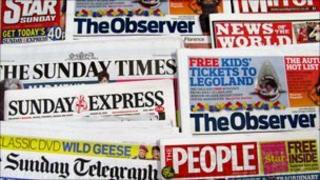 For many newspapers, it was a day when even the sea froze over.
Photographs of boats at Poole Harbour, Dorset, locked into the sea by ice are printed in the Sunday Mirror and People.
Describing it as the "rarest of sights", the Mail on Sunday describes how sea-birds were skidding across the solidified surface of the harbour.
The Sunday Telegraph predicts travel chaos while the Sunday Express says it would be surprised if the country did not grind to a halt.
'On fire'
The latest bloodshed in Syria is the subject of dramatic accounts.
An opposition activist tells The Independent on Sunday that "the city of Homs is on fire".
Writing in the paper, Joan Smith says the international community must help support and train Syrian opposition.
The Sunday Telegraph focuses on the decision by Russia and China to block an attempt at the UN to censure the government in Damascus.
'Scapegoat'
The Sunday Times reports that Fred Goodwin has resigned as a trustee of the Queen's personal charity, the Queen's Silver Jubilee Trust.
The paper says the former bank chief is upset that more of the business community has not supported him.
His friend, former Grand Prix driver Sir Jackie Stewart, said he thought Mr Goodwin had been made a scapegoat.
The Telegraph says the Queen privately voiced "misgivings" before signing the order to annul his knighthood.
Failed bankers
Claiming an exclusive, the Sunday Mirror says Barclays will respond to public concern over bankers' bonuses by slashing rewards for its staff.
Industry sources tell the paper that the company will cut pay and rewards for the 24,000 worldwide staff in its investment arm by up to a third.
But Barclays' boss, Bob Diamond, could still receive more than £3m in shares.
The paper says bankers are not showing any signs of contrition, adding that failed bankers should not be rewarded.