Supreme Court hears landmark social care costs case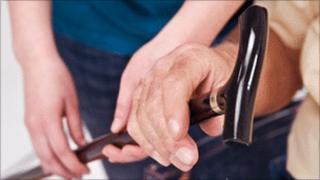 The ability of English councils to consider their finances when assessing people for social care is being challenged at the Supreme Court.
A severely disabled man - known as KM - and four charities say care should be the same wherever a person lives.
Cambridgeshire County Council awarded KM about £85,000 a year, for care that a social worker estimated at £157,060.
If the landmark appeal is successful, councils will have to reassess how they examine disabled peoples' needs.
Lawyers for the 26-year-old want the seven Supreme Court justices to rule whether the county council's decision to limit the amount to £84,678 was "irrational" as it would be "manifestly insufficient" to meet KM's "assessed eligible needs".
On Tuesday Ian Wise QC, outlined the legal arguments to the judges at the start of the two-day hearing.
He said: "The case raises important and profound issues for KM and other disabled people like him who are dependent upon local authority support to meet their needs.
He said the challenge mainly focused on councils' use of "resource allocation systems".
He said there was no problem with the councils' desire to "personalise social care in order to give disabled people more choice over the way in which their needs are met".
"That of course is unobjectionable, indeed laudable. It is however objectionable if the sum of money generated by the resource allocation system is insufficient to meet the needs of the disabled person," he said.
On Tuesday the judges heard that local authorities should look at granting funds so that care could be arranged but not necessarily provide it as a direct service.
Following a ruling in 1997 by the House of Lords, councils in England can currently consider their resources when assessing the needs of disabled adults.
But lawyers representing the charities say a council's budget should have no impact on the assessment of need.
The case is being backed by the charities Sense, the National Autistic Society (NAS), the Royal National Institute of Blind People and Guide Dogs.
Before the hearing, Alex Rook, of law firm Irwin Mitchell said: "This is potentially the biggest community care case for 15 years."
'Fair' assessments
He said the charities were seeking to "end the inequity of the current situation and determine once and for all that care needs are care needs, regardless of the local authority in question.
"Each of the charities firmly believe that a person's individual needs are the same regardless of whether they live in Hackney or Harrogate."
Simon Foster, head of legal services at Sense, said: "Too often councils do not focus on the care that someone actually needs but on their own available budget."
NAS chief executive Mark Lever added: "Whilst we appreciate the challenging economic context in which local authorities are operating, assessments must be fair and the system must recognise that an individual's needs will be the same, regardless of where they live."
Musical talent
On Tuesday Mr Wise QC told the court KM is blind, has learning difficulties and his "constellation" of other health problems meant he needed constant care and that his client spent his life in a "lot of pain".
Although he needs constant support, his illnesses have not prevented him from being able to use Braille, obtaining GCSEs and learning to play a range of musical instruments.
Cambridgeshire County Council is contesting the case, while Heath Secretary Andrew Lansley has intervened and is also represented by lawyers.
The judges are expected to reserve their judgement until a later date.