Euromillions jackpot of £45m for UK ticket-holder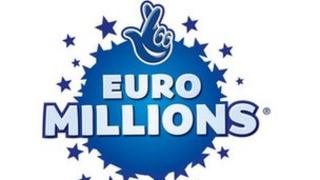 A UK ticket-holder won more than £45m in Tuesday's Euromillions draw, operator Camelot has revealed.
No-one has yet come forward to claim the £45,160,170.50 rollover prize - the seventh largest ever won in the UK.
It is not known if the winner is alone or a syndicate, but an individual would collect a fortune on a level with actor Hugh Grant and sculptor Anish Kapoor.
The biggest-ever Euromillions prize was a £161m jackpot won by Colin and Chris Weir, from Largs, Ayrshire, in 2011.
The winning numbers in Tuesday nights draw were 3, 15, 17, 28 and 33, while the Lucky Star numbers were 2 and 4.
Nine countries - the UK, the Republic of Ireland, Spain, Portugal, France, Belgium, Luxembourg, Switzerland and Austria - participate in Euromillions, with ticket sales from all of them going into the jackpot fund.