Paper review: Health bill prognosis offered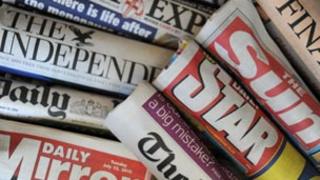 The papers offer their prognosis for the controversial Health and Social Care Bill as it returns to the Lords.
The Independent reports signs No 10 is "distancing David Cameron from his beleaguered health secretary".
For a second opinion, Andrew Lansley may prefer the Times's view that the PM "vows to push through" the plans.
In the Daily Telegraph, Lord Tebbit says Mr Lansley has "done his bit" by raising funding. "Now it is up to those who work in the NHS to do theirs."
'Fiasco'
The court decision to free radical Islamist cleric Abu Qatada continues to fill column inches.
"It's just not right that we cannot deport dangerous foreign nationals," writes Home Secretary Theresa May in the Sun, which "couldn't agree more".
But the Daily Mirror calls it a "fiasco" and says: "We want answers, not just Ms May huffing and puffing."
The Independent questions why evidence that held Abu Qatada in prison for years cannot be used for a prosecution.
Syria violence
There are more disturbing reports of the onslaught by Syrian government forces on the city of Homs.
"Tale of two cities as Assad moves to destroy opposition," is the Guardian front page headline.
Underneath, two photographs juxtapose cheering pro-regime crowds in Damascus with devastation on the streets of Homs after days of bombardment.
The Daily Mail details the UK's three-pronged approach to forcing a change of regime - without providing arms.
Mirror, mirror
Church of England plans to raise fees for weddings and funerals "mark an unwarranted and dangerous disengagement from society", says the Daily Express.
"A church wedding may become a purely middle-class phenomenon," it fears.
The Mail reports research that found people who stared at their reflections for up to 10 minutes became more depressed about their looks.
A cartoon shows a fairytale queen asking: "Mirror, mirror, on the wall, who is the most anxious of them all?"