Q&A: Hosepipe bans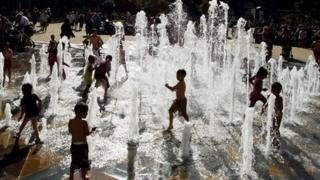 A hosepipe ban has come into force in parts of England that continue to be in a state of drought because of extremely low rainfall. What does this mean, what can be done to save water and will it affect the Olympics and the Paralympics?
Which areas are affected?
Seven water companies across south and eastern England, serving about 20 million people, have introduced the bans. They are:
The hosepipe bans follow two unusually dry winters in southern and eastern England.
Anglian Water says its regions have had their driest 18 months for a century; Thames Water says that, since records began in 1884, only 1892/93 and 1920/1921 have seen less rainfall than in the past two years.
Are any other companies about to introduce a ban?
Other parts of England could end up with a hosepipe ban, depending on the rainfall this spring.
Lincolnshire, Cambridgeshire, parts of Bedfordshire and Northamptonshire, and west Norfolk have been in drought since last summer.
Much of south-east England, including London, parts of North, South and East Yorkshire, and 17 counties in the South West and Midlands regions of England have more recently been declared as officially in drought by the Environment Agency.
Suppliers including Yorkshire Water, Bristol Water and Cambridge Water have not ruled out future bans and all water companies are urging customers to cut down on water usage.
Generally speaking, water resources in northern England are said to be within the normal ranges, Welsh reservoirs and rivers are almost at full capacity and Scottish reservoirs are more than 95% full.
What does a hosepipe ban actually mean - what can't I, and what can I, do?
Hosepipe bans, officially called temporary use bans , restrict 11 things in the home.
The first is watering a garden using a hosepipe.
Garden is defined as either a park, gardens open to the public, a lawn, a grass verge, an area of grass used for sport or recreation, allotments used for non-commercial purposes or any other green space.
But this excludes agricultural land and land used to grow any crops commercially as well as temporary gardens or flower displays.
The remaining 10 restrictions are:
cleaning a car or other vehicle using a hosepipe
watering plants using a hosepipe
cleaning a private leisure boat using a hosepipe
filling or maintaining a swimming or paddling pool
drawing water with a hosepipe for "recreational use"
filling or maintaining a domestic pond using a hosepipe (apart from ponds in which fish or other aquatic animals are kept)
filling or maintaining an ornamental fountain
cleaning walls or windows with a hosepipe
cleaning paths or patios with a hosepipe
cleaning other artificial outdoor surfaces, such as decking, using a hosepipe
Customers can still water their gardens with a watering can and can still clean their cars with a bucket and are actively encouraged to reuse bath water and washing-up water for such jobs.
What action could be taken against me if I flout the ban?
Legislation is in place for prosecution and fines of up to £1,000 but during previous hosepipe bans it has never come to this.
Water companies say they are pushing for co-operation and want people to work with the ban not against it and expect customers to let them know when others are flouting it.
They say that when people are found to be disregarding restrictions they are usually acting out of ignorance and are often horrified when the water company calls around.
Suppliers would only consider prosecution as a last resort when a customer was deliberately and repeatedly ignoring restrictions.
How will this affect the Olympics and Paralympics, sports fields and businesses like car washes?
The Olympics will not be affected as, like most suppliers, Thames Water has exempted hosepipe use on grass and artificial surfaces - as long as they are used for national or international sport events.
Thames has gone further than the other water companies by specifying sporting events and facilities including the Olympics and Paralympics, Wimbledon tennis club and professional football clubs including Arsenal and AFC Wimbledon.
However, the temporary use ban legislation means that all the capital's usually flowing fountains will be stilled during the Olympics and Diamond Jubilee celebrations.
Exemptions, which are decided by water company, are broadly similar in each area but customers should check the website of their supplier as there are some differences.
For example, Sutton and East Surrey Water allows for hosepipes to be used on all areas of grass used for sport or recreation.
Common exemptions include where a hosepipe is used to clean cars, windows or outdoor surfaces - this covers car washing businesses and window cleaners.
There are also exemptions for blue badge holders and for the use of a hosepipe for cleaning in some situations where health and safety is an issue.
And some garden drip irrigation systems, which use lengths of perforated hose, are also exempted.
How long is the ban going to last?
Some water companies say a deluge of rain could change things.
But, realistically, they say it will probably be in place throughout the summer.
How much difference will it make and what could the water companies do next if it doesn't work?
Water suppliers hope the ban will lead to the equivalent of winter demand - when water usage is far lower because hosepipes and sprinklers are rarely used - in the summer.
If the situation does not improve, water companies could take a number of actions including:
Tightening up the existing temporary use bans by removing some of the exemptions
Applying for drought orders - to reduce commercial and industrial water use by imposing further restrictions - and permits to abstract more water.
Clamp down further with a non-essential use ban drought order
Could we see a return to the standpipes of the 1976 crisis?
As a last resort, water companies could seek an emergency drought order which could include cutting off supplies to homes on a rota basis and standpipes.
In reality, water companies will do everything they can to avoid this situation and stricter restrictions than ever before mean standpipes are unlikely.
What can I do to help?
The Directgov website includes water-saving tips such as:
take shorter showers
use dishwashers and washing machines only when they are full
fix dripping taps and leaks
save the cold water that comes through before a tap runs hot, and use it to water plants
keep a jug of water in the fridge instead of waiting for the tap to run cold
turn off the taps when you're brushing your teeth or shaving
wash fruit and vegetables in a washing-up bowl full of water instead of under a running tap
install a water-saving device in the toilet
Grow your grass a little longer. It will stay greener than a close-mown lawn and need less watering.