Rio Carnival heat takes its toll on tribute to London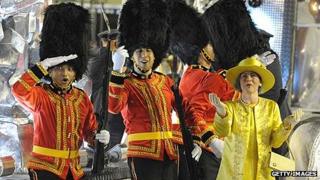 Amy Winehouse and Freddie Mercury danced together to the captivating rhythm of samba drum beats on top of Sir Elton John's piano, all under the observing eyes of Lady Diana, Winston Churchill, the Beatles and inventor Alexander Graham Bell.
This unlikely gathering of British luminaries paraded down Rio de Janeiro's Sambadrome in the early hours of Tuesday, as part of the traditional and colourful carnival procession that takes place in the city every year.
Not everything went to plan.
The Brazilian press reported that dozens of dancers fainted due to the intense heat and heavy costumes and had to receive medical treatment.
One local TV commentator observed: "The climate in Rio is not the same as London!"
Each year the different samba schools take a different theme and this year União da Ilha, one of the most famous, chose to celebrate the UK capital.
This parade is not just about colour and fun.
With big budgets and year-long rehearsals, samba schools battle fiercely to win the highly competitive contest of Rio's carnival parade.
The best school, to be announced on Wednesday, is judged by a panel of experts who take into consideration various different criteria, from costumes and song writing to drumming techniques.
União da Ilha hopes its British-style procession can help the school achieve a good standing in the rankings and maybe even win the top prize.
But a harsh judgement from the critics can even lead to relegation from next year's parade.
The procession down the Marquês de Sapucaí Avenue, where the Sambodrome is located, is as near as most of União da Ilha's members have ever come to London.
"This is great. I wish I could be in London riding one of these black cabs", says 32-year-old Jader Henrique Silva Luiz, alluding to his costume.
He was literally dressed as a "black cab", held to his body by suspenders.
"When I go to London, I want to show pictures of my costume to taxi drivers", he told the BBC, just before showing his energetic samba steps to the crowd in the Sambadrome.
Sherlock Holmes and Celtic warriors
União da Ilha's celebration of the British capital is also a reminder of a special relationship between both cities: London is hosting the Olympics later this year, and Rio will do the same in 2016.
This year's theme was titled "From London to Rio: Once Upon a Time… an Island ["Ilha", in Portuguese, means Island]" and the lyrics of the school's theme tune were full of references to British and Brazilian culture.
"I'm going to put some Worcestershire sauce in my feijoada [Brazil's national dish], mix tea with cachaça [Brazil's national drink]. I'll beat my samba with rock and roll," goes one of the verses sung at the top of the voice by the 3,000-strong group of dressed dancers.
"The only person missing here in this wonderful party is Queen Elizabeth," says Chaplinesque Luiz Mello, a 51-year-old teacher.
União da Ilha's London theme is a broad concept that goes well beyond the city and with some unusual combinations plucked at random out of books and history.
Sherlock Holmes was portrayed being stabbed by Jack the Ripper in one of the floats - mixed up with other characters such as Frankenstein, Sgt Pepper, crusaders from the middle ages and even Celtic warriors.
"I am in the Wonderland of our carnival," says actress and local celebrity Leticia Spiller, who is dressed as Lewis Carroll's Alice, surrounded by an army of samba-dancing deck cards, tea cups and rabbits.
There was also a special section dedicated to Shakespeare's Romeo and Juliet.
The last part of the parade was about the 2012 Games.
A banner with the Olympic rings was waved along with flags from many other countries.
The last float, with giant puppets dressed in Olympic colours, almost got stuck in the central avenue which makes up the carnival parade ground.
But with a little push from many willing hands, it quickly began to move again, doing just a little better than some of the dancers who wilted in the heat.