London 2012: Games Maker follows in family footsteps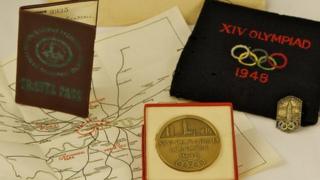 It's a case of following in the family footsteps for London 2012 volunteer Martin Heppell.
He will be a Games Maker at London 2012, 64 years after his step-mother volunteered the last time the Olympics were on British soil.
Christine Heppell, was a volunteer in the 1948 "Austerity Games", held three years after the end of World War II.
London was still suffering - rationing remained in force and many people had been left homeless.
The Olympic Committee invited more than 70 nations to take part and food, clothing and construction materials were rationed.
Like this year's Olympics, volunteers were drafted in to help put on the Games
Mr Heppell has inherited some of the memorabilia which was given to his step-mother after she completed her role.
The artefacts include a leather-cased travel pass, a luxury item considering the tight budget for the Games of just £730,000.
"It is rather nice. Materials were limited in 1948 so it could have been made out of card but it is leather,"
"It is about the size of a credit card and reminded me of the old driving licence," Mr Heppell, 64, added.
"You open it out and it has her name and a map of the London area."
The other artefacts Mr Heppell, from Basildon, Essex has inherited include a black wool badge embroidered in red XIV OLYMPIAD 1948 with the Olympic rings which he thinks might have been used on a blazer.
He also has a metal pin badge embossed with the Olympic rings and a representation of the Houses of Parliament.
And he found a boxed medal which is about five centimetres in diameter embossed with a Greek chariot.
"I suppose it was a presentation medal for being a volunteer. At first I thought it was a bronze medal for the 100 yards," he laughed.
Mrs Heppell's travel pass was issued by TRW/LTE (London Transport Executive) and was valid within a 15 mile radius of Charing Cross 15 July to 15 August 1948 inclusive.
Inherited artefacts
This summer, Mr Heppell will be a Games Maker at the beach volleyball events at Horse Guards Parade.
He said that unfortunately he didn't get any tips on volunteering from his step-mother as she died in 1997.
"It wasn't anything we discussed in any detail because we didn't know the Olympics was going to be in London.
"When my father died in 2001 he had all this stuff amongst his effects and that's how I got it."
He does not know much about his step-mother's time as a volunteer but said she must have been about 35 and perhaps got into it through her employer, the Commonwealth Bank of Australia.
"In modern terms she was the PA to the UK boss. She lived in Muswell Hill in London at the time and was there most of her working life."
Christine Heppell, whose maiden name was Goodsall, married Mr Heppell's father Arthur in the 1970s and they moved to Guildford.
Inspired volunteer
Mr Heppell was born in 1948 and said that being born in an Olympic year, as well as the fact his step-mother had volunteered, inspired him to apply to be a Games Maker.
"It's fair to say it played a part in my decision to do it. She bore the same name as me so I'm keeping it in the family.
"It's not out of a sense of duty though. I just thought it would be a fun, worthwhile thing to do.
"If she hadn't done it - I'd probably still volunteer anyway. It's just a factor which resolved me to do it. I didn't even know if I was going to be chosen."
Mr Heppell talked fondly of his inherited artefacts. He said he is not interested in the value of the items, despite the fact that together they are worth about £300.
Items such as gold medals and even silver and bronze medals can sell for many thousands of pounds depending upon the event and the winner of the medal.
But Mr Heppell's collection falls into the category of "ephemera" as they are mementoes relating to the volunteer, rather than an actual participant.
"Many things still survive from the 1948 Olympics," Chris Williams from auctioneers Sportingold Ltd said.
"But there will certainly be a premium to add to their value in 2012 because of the Olympics being in London again.
"A £20 item will probably have at least a 50% premium due to the large level of interest in the Olympics."
But for Mr Heppell he is not interested in the price of his artefacts, he is just glad to be taking part.
"Only one in four people got through, so I guess it's rather nice to be selected," he said.