Rough sleeping in England rises by a fifth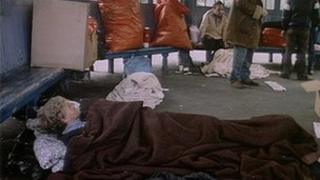 The number of people sleeping rough in England has risen by 23% in a year.
Figures from local authorities for a single night last autumn suggested there were 2,181 rough sleepers, up 413 from 1,768 the previous year.
Housing Minister Grant Shapps pledged an extra £18.5m to councils to help tackle rough sleeping, on top of an existing £400m to prevent homelessness.
But homelessness charity Crisis called for a law change to ensure councils helped all rough sleepers.
London and the South East had the highest number of rough sleepers - more than 400 in each region - while the North East had the fewest, with just 32.
Separate data showed that more than half of rough sleepers in London came from overseas, with a particular rise in numbers from Central and Eastern Europe.
Mr Shapps said: "Anyone heading here with tales of Dick Whittington in their head needs to realise that the streets of London and our other cities aren't paved with gold.
"Those arriving from beyond our shores to try and carve out a future in England should come with a thought-through plan to avoid the risk of sleeping on the streets."
'Potentially life-saving'
The minister challenged local authorities to work towards the goal that no-one spent more than a single night on their streets.
"This country has some of the best homelessness services for those who become destitute in the world, but rough sleeping is still on the rise, and I want to make sure we're doing everything we can to prevent anyone spending a second night on the street," he said.
"With Liverpool now signed up to adopt the potentially life-saving 'No Second Night Out' commitment pioneered in London, and other major cities making plans, in future no-one should ever spend more than one night on the streets."
But shadow housing minister Jack Dromey said: "The harsh reality of Cameron's Britain is that more and more people face a night out on cold streets."
He said the "rapidly rising" numbers of people homeless and sleeping rough were "a direct result of this government's failure".
"The government was warned its policies risked increasing homelessness and rough sleeping but these warnings fell on deaf ears."
'Desperate need'
Leslie Morphy, chief executive of Crisis, said: "The government must learn from these figures and ensure that the services and help homeless people need are available in every area."
But the charity pointed out that existing homelessness legislation did not consider single people a priority.
If they turned to council services but did not get the help they needed, they could be "left with nowhere to go but the streets and can quickly spiral deeper into homelessness", Crisis said.
"It is shocking that in the 21st Century there is still no right to shelter," Ms Morphy said.
"Our 'No One Turned Away' campaign is pressing for a change in the law so that every homeless person who approaches their local council for help gets the advice and support they need and no-one is forced to sleep rough.
"In the face of these shocking figures it is all the more important that government acts now."
Campbell Robb, chief executive of housing charity Shelter, said: "These figures are just the tip of the homelessness iceberg, with many more hidden from view and moving from sofa to sofa in desperate need of a home to call their own.
"And tens of thousands of children are growing up in temporary hostels and bed and breakfasts, deprived of a decent start in life.
The latest figures are the second annual set of statistics since it became a requirement for councils to provide a robust estimate or count of rough sleepers.