Mulcaire hacked phones 2,226 times for News of the World, court documents allege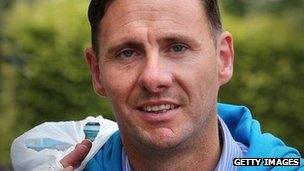 News of the World journalists asked private investigator Glenn Mulcaire to hack phones 2,226 times over five years, newly released documents allege.
Mr Justice Vos ordered that papers relating to civil phone hacking cases be released to the BBC and other media at a High Court hearing on Thursday.
The claimants' documents detail the alleged activities of Mulcaire, News International and News of the World.
They describe a strategy amounting to a "concealment of unlawful actions".
Mulcaire was jailed in January 2007 for six months and the News of the World's royal correspondent Clive Goodman received a four month term for illegally accessing voicemails of members of the royal household.
The investigator had been contracted to the now defunct newspaper to undertake "research assignments" from at least September 2001.
The Generic Particulars of Claim documents allege that even after Mulcaire was arrested in 2006, a NoW journalist continued to hack voicemail messages.
BBC home affairs correspondent Danny Shaw says the legal documents show the scale of the hacking that apparently went on at the NoW.
But he says what is perhaps more surprising is the extent of an apparent cover up at NoW publisher News International.
The information contained in the documents had been suspected, but can now be seen in black and white, said our correspondent.
The documents allege that all computers used by NoW journalists were destroyed around October 2010.
They state that the destroyed computers included some that had been specifically been named in legal letters, which should have ensured they were kept as evidence.
The documents also allege that hundreds of thousands of emails were deleted on order of senior management - on nine separate occasions. They refer to an "email deletion policy" dated November 2009 entitled "opportunity".
Records of email correspondence suggest that managers were pressing for the email deletion policy to go ahead - one email dated July 29 2010 says: "How come we still haven't done the email deletion policy discussed and approved six months ago?"
The documents go on to claim that in July 2011 a senior News International executive instructed an employee to remove seven boxes of documents from a company storage facility.
A News International spokeswoman declined to comment on the content of the claimants' documents.
The long-running row over phone hacking by journalists led to the closure of the NoW in July.
It also raised questions about press regulation, media ownership, the police, and relationships between politicians and journalists, which are being discussed at the ongoing Leveson Inquiry.
At least 50 claims against the NoW have now been settled.
News of the latest settlement came on Thursday when the High Court was told that singer Charlotte Church had reached an agreement on her damages claim against News Group Newspapers - a subsidiary of News International - over the hacking of her phone.
Mr Justice Vos had been due to consider claims that 33 articles in the paper were the product of hacking into voicemails.