One family of Afghanistan's fallen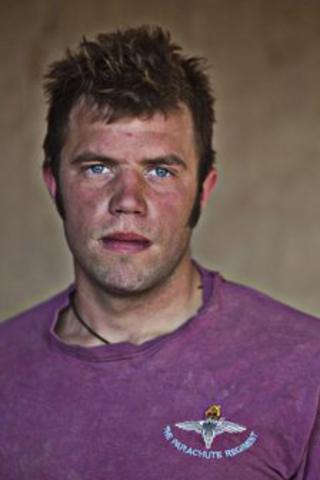 With news that six soldiers have been killed in the single worst enemy attack on British troops in Afghanistan since operations began in 2001, this is the story of one family and its response to losing a loved one to the conflict.
Tony Lewis was on business in Paris when the car drew up on the drive of his isolated home at Claverdon, Warwickshire.
His wife Sandra and his teenage daughter were in at the time. They were the first members of the family to be told the devastating news that the relatives of all service personnel deployed in Afghanistan must dread.
Conrad, their 22-two-year-old son, had been killed in Helmand.
One year on and Tony recalls the heartbreak of that day. It still brings tears to the eyes of his wife as she listens beside him.
It was Sandra who had to phone Tony to break the awful news. He was driving round the Paris ring road when she made the call. Tony says she found it hard to get the words out.
Weeks of waiting
Giving a glimpse into the emotional turmoil that each of the nearly 400 families who have lost a loved one in Afghanistan must go through, Tony explains that it is not like any other death.
The Lewises had to wait three weeks from the time they were told of Conrad's death until they could bury his body. There are the wait for investigations, the repatriation ceremony and the post-mortem examination.
Then, months later, the anguish is often repeated at the coroner's inquest.
Pte Conrad Lewis was the 353rd member of the British forces to die on operations in Afghanistan. A member of the Parachute Regiment, his unit was operating from Checkpoint Qudrat in the Nad Ali district of Helmand.
Tony describes it as being the most "contacted" checkpoint in all of Helmand. Patrols regularly came under fire. Tony says his son, who was mentioned in despatches for his bravery, was often at the front of those patrols carrying the mine detector to search for roadside bombs.
On 9 February 2011, his unit came under fire from a Taliban sniper. Conrad and his close friend Pte Lewis Hendry were both killed by a single shot.
In the months that followed, the Lewises arranged to have a stray dog that Conrad had cared for in Afghanistan brought to live with them in the UK.
They said that Peg - named by the regiment after Pegasus, the winged-horse on the Paras' emblem - was their link to Conrad during his time in Afghanistan. "She was by his side," Tony said.
'Honour their memory'
In memory of their son, Tony also set up a not-for-profit company: "353...". The dots were an acknowledgement that Conrad would not be the last British soldier to die.
He has commissioned a range of products emblazoned with the logo to sell to the public and has already raised £70,000. Ultimately Tony says the company is "not about a name, nor a number".
The aim - with so many well-established military charities already in existence - is to raise funds on behalf of the fallen. But he hopes it will help "honour their memory and make a difference".
But the real test of honouring the memory of the fallen will also depend on what British forces will leave behind.
Despite the rising death toll - including hundreds of Afghans as well as international troops - there are signs that, at least in Helmand, the security situation has improved.
It is not something that you can just measure in lost British lives. But it is an indicator. In 2009, 108 British service personnel were killed in Afghanistan. In 2011 that figure fell to 46.
The statistics, no doubt, are helped in part by the fact that UK troops have been boosted by the US surge and no longer patrol areas like Sangin.
Legacy left behind
Tony says his son believed he really was making a difference - making Afghanistan a safer place for its people. But he questions the wisdom of setting a deadline to end combat operations by December 2014.
"The tragedy," he says, "would be to leave before the job's done."
Following news of the latest presumed deaths in Afghanistan, many will be asking similar questions about what legacy British forces will be leaving behind.
Everyone agrees there is still a long way to go. In a recent interview with the BBC, the overall commander of Nato troops in Afghanistan, Gen John Allen, made clear that international forces - including British troops - would be fighting and taking casualties right up to the end of 2014.
But with the end of that combat mission now in sight, more people will be reaching their own verdict on what has been achieved - and, ultimately, whether their sacrifice has been worthwhile.