Wife of UK photographer Paul Conroy seeks Syria action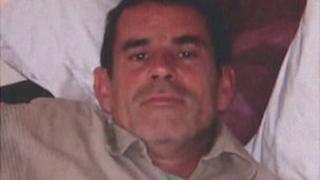 The wife of a British photographer who remains injured in Syria after an attack that killed two other reporters has called for action to get him out.
The Foreign Office told Kate Conroy it would be too dangerous to send someone to get her husband, Paul, out of Homs.
But she told the BBC she wished someone would say "forget the protocol" and get him out because her husband had put his life at risk, as had others.
The government said it was doing "everything" it "possibly can".
The Foreign Office told the BBC that Homs was under siege, which was making rescue operations very difficult.
But the British ambassador is said to be lobbying the Syrian foreign ministry, while talks are also taking place with the Red Crescent.
Mr Conroy was hurt in the attack on Wednesday that killed the Sunday Times's Marie Colvin.
Retrieving shoes
Her newspaper has reported that the foreign correspondent died trying to retrieve her shoes so she could escape an army bombardment.
The Sunday Times reports that she and others had followed the Middle Eastern custom of taking off their shoes when they entered a building housing the rebel press centre.
Opposition-held districts of Syria have been under siege by security forces for more than two weeks, leaving hundreds dead.
Ms Colvin, 56, had been on the ground floor on Wednesday morning when missiles hit the upper floors.
A group of foreign journalists, which included Mr Conroy, was covered in dust but unhurt and had to get their shoes as they prepared to flee.
Ms Colvin ran to the hall where she had left hers, but a rocket landed at the front of the building, a few yards away, as she did so.
The blast killed her and French photojournalist Remi Ochlik.
Mr Conroy, a Devon-based freelance photographer working for the Sunday Times, was in a nearby room and was hit by shrapnel in the leg and stomach.
And French journalist Edith Bouvier suffered multiple leg fractures.
The Sunday Times said hopes had begun to fade for the rescue of the pair, who both urgently need medical treatment.
Mr Conroy's wife, an occupational therapist from Totnes, told BBC Radio 4's Broadcasting House programme she could "reluctantly appreciate" the position adopted by the Foreign Office that they could not sanction a rescue operation on the grounds that it would be too dangerous to send anybody in to Homs.
However, she said: "My husband has put his life at risk, and the others have.
"I would like it if somebody in that embassy was to say 'forget the protocol, I'm going and I'm going to get them out' - but I know that is not going to happen.
"I have had quite a heated conversation with an MP and he has been absolutely categoric with me that that's not going to happen."
Grammy Award winning singer Joss Stone met Colvin 10 years ago while filming a documentary
She told the BBC: "If he does not go out there the story is not told, then the massacre would be worse. They are saving lives just by being there."
The Devon-based star added: "He will be alright. Paul is a survivor."
'Difficult' negotiations
International Development Secretary Andrew Mitchell said the government was doing "everything we possibly can" to secure the safe return of journalists trapped in Homs.
The International Committee of the Red Cross said it had been unable to enter the city to evacuate injured Syrians and the two journalists.
Mrs Conway said her husband had rejected the opportunity to leave Homs with the Syrian Red Crescent as the photographer had been advised that they were "not to be trusted".
And Mr Mitchell told BBC One's The Andrew Marr Show there was evidence of people on the ground of people "infiltrating the Syrian Red Crescent" and "posing an additional danger" to injured people seeking to leave Homs.
'Patchy' conversations
He said: "We are doing everything we possible can. The Foreign Office have been seeking to negotiate with the Syrian authorities. Our ambassador in Damascus is engaged in trying to do just that.
"It is extremely difficult and the conversations are patchy."
The minister also urged the Syrian regime led by President Bashar al Assad to allow international aid agencies into the city and the embattled neighbourhood of Baba Amr, which has been rocked by a month of shelling by government forces.
"We are demanding unfettered access for the humanitarian agencies who are there on the ground. We continue to push in every way we possibly can for this unfettered access," said Mr Mitchell.
Mr Conroy, originally from Liverpool, has worked for the BBC and Channel 4.
He has been shortlisted for several awards along with Ms Colvin.