Newspaper review: Papers focus on Homs suburb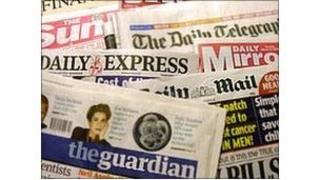 Many of the papers carry reports of the horrific conditions being endured by residents of the Baba Amr district in the Syrian city of Homs.
The Guardian saysanti-government forces have accused Syrian troops of burning houses, arresting males over the age of 12 and beheading 17 men.
The Independent saysPresident Assad has opened a second front by bombing Rastan, a rebel town north of Homs.
It says 12 people were blown up during a rocket attack after Friday prayers.
The head of British Gas has predicted that energy bills are set to rise for the next decade.
According to the Daily Telegraph, Phil Bentley blames the increases on green taxes and the £1bn it could cost to upgrade the National Grid.
According to the Times, David Cameron, Nick Clegg and George Osborne are still trying to agree on a way of taxing multi-million pound properties.
The plan would fund a giveaway for struggling families, it says.
The Sun also turns its attentionto the Budget, calling for a cut in fuel tax and some form of income tax break.
The paper says it does not expect a giveaway Budget but wants some relief and David Cameron and George Osborne should stop sitting on their hands.
The main story for the Independentis the cut in funding for groups working with victims of domestic violence.
Data released under the Freedom of Information Act shows grants from local authorities have fallen more than 30%.
The "hawk in hippy's clothing" is how the Daily Mail describesSteve Hilton, David Cameron's chief strategist, who is taking a sabbatical.
Its political editor describes his departure as a "significant blow" to the prime minister.
But Kevin Maguire in the Daily Mirrorsays two words sum up the "irrelevance" of Steve Hilton: Big Society.
Finally thethe Telegraph reportspeople will soon be able to get a mobile phone signal in the Channel Tunnel.
The paper says it raises the all-too inevitable prospect of a chorus of passengers shouting: "Hello darling, I'm in the Channel Tunnel!".