Newspaper review: PM to introduce minimum alcohol price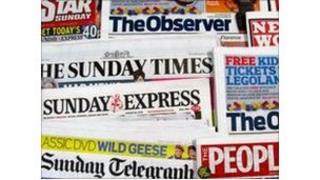 The prime minister has decided to introduce a minimum price for alcohol in England and Wales by 2015, according to theSunday Timesandthe Sun.
The Times says it will be set at 40p per unit - which would double the price of strong cider and push up the cost of supermarket lager by a third.
The aim is to discourage binge-drinking.
Mr Cameron's decision has reportedly delighted the Liberal Democrats who consider it a "momentous achievement".
TheSunday Telegraphsays the attack on gay marriage by Cardinal Keith O'Brien has put the Roman Catholic Church on "a collision course" with Mr Cameron.
The paper describes the cardinal's intervention as the strongest criticism yet from any Church figure.
It says the government is also facing a rebellion by Conservative MPs.
The desecration of British war graves in Libya sickens theMail on Sunday, which calls footage of the attack in Benghazi "profoundly disturbing".
The Observer's front pagelinks the police to a blacklist of left-wing workers which was funded by construction firms.
It says the Information Commissioner has found files in a database seized three years ago that could only have come from the police or MI5.
The Observer says the nature of the information held has emerged following an employment tribunal.
One blacklisted trade unionist said it "smacks of a sort of police state".
TheSunday Timesreveals that the famous Picasso painting, Child with a Dove, is for sale for £50m and is most likely to go abroad.
The work has been on public show in Britain since the mid-1970s, when it was lent to the National Gallery by its owners, the Aberconwy family.
The Times thinks a foreign purchaser is already interested.
It notes the National Gallery had to use £25m - two-thirds of its legacy reserves - last week to save Titian's Diana and Callisto for the nation.
The Daily Star on Sundayfinally gets to publish its story about the 17-year-old son of the environment secretary, Caroline Spelman, taking steroids, after an injunction was lifted last week.
"Young Spelman and his parents tried to shut us up in court", it comments, before quoting back Mrs Spelman's own remark that "honesty is always the best policy".