London 2012: Bursaries to help Games Makers with costs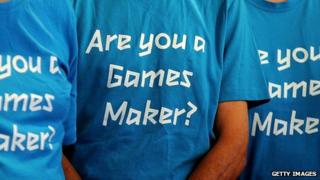 A bursary scheme has been launched to help Olympic volunteers who are struggling to pay to go to the Games.
More than 70,000Games Makersfrom around the UK will travel to London and will not be able to claim expenses.
TheCommunity Foundation, Tyne & Wear and Northumberlandis offering bursaries to anyone who can prove they are in financial need.
Play your Partis open to Games Makers, aged 18 to 25, who have a place at the Olympic or Paralympic Games.
The volunteers must be from theNorth Eastand also be in "genuine need of financial support".
"It's a grant, it's not a welfare benefit," Rob Williamson from the charity told the BBC.
"We'll be asking why they need financial support and what particular things they need help with - transport, accommodation and additional daily living expenses.
"We're looking for a commitment they already show through volunteering or helping others as well as an effort they are already doing to stay with friends or get other support such as raising money from friends and family.
"We are looking to help those young people who have also been trying to help themselves."
The foundation has already raised £22,000 through donations.
It estimates it will cost about £1,300 for a Games Maker to travel to London and work a minimum of 10 shifts - the number required by organisersLocog.
They will be entitled to free travel in London on public transport (zones 1-6) in order to get to their shifts.
It will include travel between London and other venues including Eton Dorney, Lee Valley White Water Centre and Hadleigh Farm, Essex.
There will also be free Games Maker transport in Weymouth and Portland, Manchester, Coventry, Cardiff, Newcastle and Glasgow but transport will not be provided to those locations from elsewhere in the UK.
More than 200,000 people applied to be Olympic volunteers.
Life changing
Geoff Hodgson from theLondon 2012 Nations and Regions Groupcame up with the idea.
"I was in Barcelona in 1992 and one of the lasting memories was of the fantastic people there and how their time in the Olympics changed their lives.
"I didn't want young people from the North East not to be able to have the same chance."
Mr Hodgson said the costs incurred in volunteering could be the difference between people attending and not attending the Games.
The money raised so far will go to help around 25 young people, but the foundation is keeping the scheme open to new donations.
"We're going to have to make some difficult decisions. We need to weigh up competing needs and it's hard," Mr Williamson said.
"That's why we're saying that people can still contribute to the fund. We've been working on generating donors, but we're pretty confident that we'll have more applications than we can support.
"We'll have a panel of people in the region to help us look at the applications and to make some judgements about where we can best apply bursaries to those who will benefit."
Missing out
Donors which have so far supported the scheme includeThe Sir James Knott Trust,The Greggs FoundationandBusiness and Enterprise North Eastamongst others.
Mr Williamson said businesses have come forward as they have an understanding of what the foundation is trying to do.
"There is a realisation that people might miss out on this opportunity - a small amount of support can go a long way.
"There is also a tradition in the North East of looking after our own and people see the benefit to the young people involved."
Applications for bursaries close on 2 April although not all Games Makers will know if they have secured a place until the end of April.
"We've scheduled the application timetable as sensibly as we can," Mr Williamson said.
"We know people will be attending training events and wanting to make their plans for London so we couldn't leave it any later.
"There may be other opportunities through this fund or others for anyone who is unable to benefit this time round."
A similar schemewas set up in Northern Ireland by Volunteer Now and theDepartment of Culture, Arts and Leisureand the deadline for applications closes on 8 March.