Prince Harry praises UK and Brazil bonds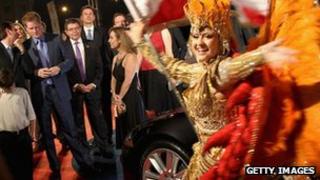 Prince Harry said Britain and Brazil are "forging bonds that will stand the test of time" in a speech at the start of a three-day visit to the country.
He was launching the Great initiative in Rio de Janeiro, a £25m campaign to encourage Brazilians to visit the UK.
Culture Secretary Jeremy Hunt and Chris Holmes, Britain's most successful Paralympic swimmer, joined him for the event at Sugar Loaf mountain.
Later, the prince will take part in a Sport Relief Mile run.
Harry told the audience, which included artists, cultural leaders and entrepreneurs from across Brazil: "It's wonderful to see here tonight so much that is truly Great about Britain - and particularly about our flourishing partnership with Brazil.
"In business, the UK is now Brazil's fourth largest foreign investor. In education, innovation, technology, fashion, and even in shopping, Britons and Brazilians are forging bonds that will stand the test of time, and take us forward together into the 21st Century.
"I feel that it's going to be a great era for our two countries, for the friendship between us. Something like a marriage - now, there's an idea."
'Party started'
The campaign, coinciding with the Diamond Jubilee and the London Olympic Games, is aimed at encouraging more people to visit, study and do business in Britain.
Rio is one of 14 cities identified for Britain's biggest ever tourism campaign, including Mumbai, Sao Paulo, and Shanghai.
British brands were on display at the event, from car brands Bentley, Aston Martin, Mini and Jaguar - to fashion labels including Vivienne Westwood, Stella McCartney and Burberry.
Mr Hunt said Rio, which will host the Olympics in 2016, was a "fantastic" place to showcase the campaign.
"Passing on the Olympic baton to them after 2012 will be an honour and I hope we can build on the close relationships already forged by inspiring more people to do sport, more visitors to holiday and study in the UK, and more companies to do business in Britain," he said.
The prince was welcomed by Uniao da Ilha, a samba band whose theme at the recent Rio de Janeiro Carnival was London to Rio, celebrating the Olympic handover.
His speech was introduced by the culture secretary and footballer David Beckham, who spoke via a video, and told the prince to "get the party started like only he can".
In his address Harry joked about his brother the Duke of Cambridge being a bad dancer, saying: "But everything about Rio makes you want to dance. I'm just so thankful that my brother isn't here because he might actually do it... and that would not be cool."
He said it had been a burning ambition of his to come to the country: "I can hardly believe I'm here.
"Over the years, I've seen and heard so much about this extraordinary place - in fact, ever since my father told me about a certain dance he once had with a beautiful girl called Pinah.
"It just seems to have stuck in his mind for some reason..."
During his trip to Brazil the prince will be playing beach volleyball in Rio and playing polo to raise funds for Sentebale, a charity which helps children in Lesotho, Africa.
The prince earlier toured Belize, the Bahamas and Jamaica, representing the Queen for her Diamond Jubilee.