'Hidden scale of rape' highlighted by Mumsnet campaign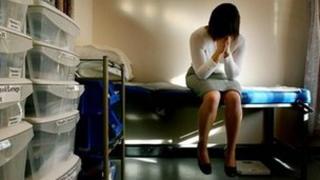 Mumsnet website has launched a rape awareness campaign following research that it said revealed the "hidden scale of rape and sexual assault".
Of 1,600 women who volunteered to answer the online poll, one in 10 said they had been raped and 35% said they had suffered a sexual assault.
But Mumsnet found only one in five victims had reported an attack.
Police chiefs said the number of victims coming forward had risen, but was still "the tip of the iceberg".
Launching the parenting website's We Believe You campaign, Mumsnet co-founder Justine Roberts said: "We simply shouldn't accept that we live in a country where one in 10 women are raped and over one third sexually assaulted.
"Things are made worse by the feeling among many women that they can't talk about these crimes for fear of being treated unsympathetically, denying them access to practical and emotional support when they need it most."
The findings from 1,609 respondees who volunteered to answer the Mumsnet survey in February and March also included:
Two-thirds of those who said they had been raped or sexually assaulted had known their attacker in advance
Almost 70% of respondents said they would hesitate to report an attack to police because of low conviction rates
53% said they would hesitate to report, owing to embarrassment or shame
70% felt the media were unsympathetic to women who reported rape, and more than half felt the same about the legal system
Some 55% of respondents felt society at large was unsympathetic
Mumsnet is attempting to challenge what it calls "persistent myths that help to make society less sympathetic" and stop victims reporting attacks.
Tackling the myth that "women provoke rape by their appearance or their behaviour", for example, Mumsnet says: "Dressing attractively, or flirting, is never an invitation to rape."
It adds: "No woman 'asks to be raped' or 'deserves what she gets' - only the rapist is responsible for the rape.
"Rape happens to all types of women, from the very young to the very old - physical appearance is irrelevant."
'Significant improvements'
The Crown Prosecution Service welcomed the campaign, saying it would help to give victims the confidence to come forward and report crimes.
Allison Saunders, chief crown prosecutor for London, said: "Rape and sexual assault are dreadful crimes and ones that are often difficult for someone to report because of fear, shame and embarrassment.
"As the Mumsnet survey shows, victims can also be reticent to come forward for fear of being demonised in court and even in the media."
Chief Constable Dave Whatton, Association of Chief Police Officers lead for rape and serious sexual offences, said: "We are really pleased that we have seen an increase in the confidence of survivors of rape to come forward over the last couple of years that is reflected in the increasing numbers of recorded offences of rape, but recognise that this is still the tip of the iceberg of all victims."
He added: "There has been significant improvements over recent years in the way victims of rape are treated.
"Improvements in specialist training of officers and better access to sexual assault referral centres have assisted the policing response and that of our partners in health and the voluntary sector.
"But I know that there is no room for complacency."
Last September, the BBC reported wide disparities between police forces across England and Wales in the proportions of rape allegations dismissed as "no crime".
While the average "no crime" rate for rape allegations had fallen from 16% to 12% over a four-year period, figures obtained by the BBC showed individual forces' rates ranged from 2% to 30%.