Phone hacking: Rebekah Brooks arrested in Weeting probe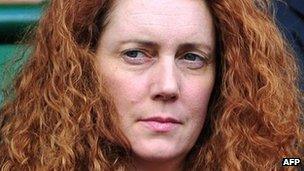 Former News International chief executive Rebekah Brooks has been arrested on suspicion of conspiring to pervert the course of justice.
Five men were also detained, including Mrs Brooks's husband, Charlie. All have since been freed on bail until April.
The arrests took place in Oxfordshire, London, Hampshire and Hertfordshire.
Police said six people were arrested as part of Operation Weeting, the Metropolitan force's investigation into phone-hacking.
News International has confirmed its head of security, Mark Hanna, was among the six people who were questioned.
Former News of the World and Sun editor Mrs Brooks, 43, was arrested at her home in Oxfordshire.
Her husband, 49, was also detained and they were held at separate police stations before being released late on Tuesday.
Officers searched addresses connected to the arrests.
The other men arrested were a 39-year-old from Hampshire, a 46-year-old from west London, a 48-year-old from east London and a Hertfordshire 38-year-old.
Mrs Brooks was arrested under Operation Weeting last July on suspicion of conspiring to intercept communications, before being released on police bail.
She has also been arrested as part of the Operation Elveden investigation on suspicion of corruption.
The ex-editor was the only suspect among the six to have been arrested previously as part of the ongoing police operations.
Mr Brooks is a good friend of David Cameron, whom he has known for more than 30 years since their days at Eton school.
The Brookses live a few miles from the Camerons in the prime minister's constituency.
Mr Brooks wrote in his Daily Telegraph column on Monday about how much he was looking forward to going to the Cheltenham horse racing festival, which began on Tuesday.
"The happiest moment of my year is about three hours before the first race at Cheltenham on Tuesday," he said.
The Metropolitan Police said the arrests were carried out after consultation with the Crown Prosecution Service.
It brings the total number of people arrested in Operation Weeting and its linked inquiries to 44.
The other investigations are Operation Elveden into corrupt payments to police officers and Operation Tuleta into computer hacking.
Related Internet Links
The BBC is not responsible for the content of external sites.