Leveson Inquiry: Ex-NoW reporter recalls 1980s 'bribe police comments'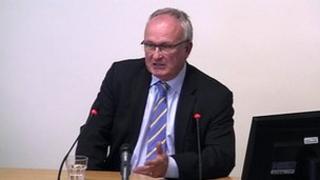 A former News of the World (NoW) crime reporter has told the Leveson Inquiry he was encouraged to bribe police officers in the 1980s.
Jeff Edwards, now Crime Reporters Association president, said a news editor in 1981 told him to "put some inducements out there" to get stories.
A few weeks later the same editor told him "you should essentially be bribing more police officers", he said.
Mr Edwards said that he refused and was subsequently taken off the crime desk.
Evidence of widespread phone hacking at NoW led to the Sunday tabloid's closure in June 2011 and the establishment of Lord Justice Leveson's inquiry into media ethics and practices.
Mr Edwards said when he worked at News of the World prior to leaving in 1985 he observed an "element in there that had a tendency towards questionable unethical behaviour".
That tendency manifested itself in a variety of ways, he said, with some reporters appearing to play "fast and loose with the truth".
Brokering police information
Mr Edwards also referred to a time when it had been known that a "small number of former police officers" were offering information to journalists.
"As ex-police officers they could legitimately be paid for information and there was always a suspicion - I wouldn't say that it had been proven - that they were receiving information from serving police officers."
He said it was thought they were brokering the information to journalists and then sharing the profits.
After "one or two half-hearted attempts to deal with it", Mr Edwards said police arrested someone - and a serving police officer - around 2006-07. He understood the officer was given a custodial sentence for passing on restricted documents.
But he said there was never really a satisfactory outcome. "The people who were carrying out those kinds of activities have got old, their contacts have died off and I have no knowledge of anybody who has replaced them in that world."
Self-governing
Counsel to the inquiry Robert Jay QC asked Mr Edwards about Scotland Yard's director of communications Dick Fedorcio, who appeared before the inquiry on Tuesday.
Mr Fedorcio has been on extended leave since August 2011 while his links to a former News of the World executive who was hired by Scotland Yard are investigated.
Mr Edwards described Mr Fedorcio as a "very professional man" who "definitely had one eye on trying to influence the media" and appeared to focus on those he regarded as being more influential.
"I wouldn't like to use the word 'favourites' but I think there were people he had more contact with than others."
Mr Edwards said crime reporters had to be self-governing.
"We have to adhere to codes of conduct," he said. "If you don't behave to a high standard your reputation will still get around - there's a health warning attached to you."
The inquiry earlier heard from Guardian crime reporter Sandra Laville, Paul Peachey of the Independent, and Jonathan Ungoed-Thomas from the Sunday Times.
In her evidence, Ms Laville said the Metropolitan Police had shut down informal lines of communication in "an overreaction" to stories of its relationship with the media.
"Information is being constantly channelled through the official source and police officers are not willing to talk," she said. "And they're scared of talking."
Ms Laville said the Met needed to keep officers' informal lines of contact with the media open.
"Empowering them, trusting them to do that and understanding that for years we've had a mutually beneficial relationship," she said. "It's lasted for a long time because it actually works."
She acknowledged the relationship had not been without its issues, but said they were caused by "a minority of people".
Rather than clamp down on communication it would be better to "encourage best practice", Ms Laville said.
Ms Laville said journalists had to be able "to hold the police to account".
"You can't hold them to account by taking information from the official channels only," she said.
In his evidence, Mr Peachey also stressed that journalists needed informal contact with officers.
He said the media acted as "a conduit", writing about what the police were doing and holding them to account.
Mr Ungoed-Thomas said he had not noticed a change in the culture of the Met's relations with the media but added he no longer dealt with Scotland Yard on a daily basis.
'Unproven evidence'
Meanwhile, a witness who had been due to give evidence on Thursday has had his appearance postponed after a representation by Metropolitan Police Service (MPS) lawyer Neil Garnham QC at the start of the hearing.
Mr Garnham argued that the witness statement of Peter Tickner, who previously worked for the MPS and Metropolitan Police Authority (MPA), made serious allegations against former Met commissioners Lord Blair and Sir Paul Stephenson that were "unproven and unsupported by independent evidence".
"They come, to use the popular expression, from leftfield," he said.
"They have, we would say, the flavour of attempts to use the inquiry as a vehicle to settle old scores, and those criticised have had no chance to deal with the issues when they gave evidence.
"These previous witnesses face being traduced in the press without any possibility of effective redress or rebuttal."
Lawyers involved in the inquiry have seen the witness statement but it has not yet been made public.