Police commissioner elections: Millions without internet 'miss out'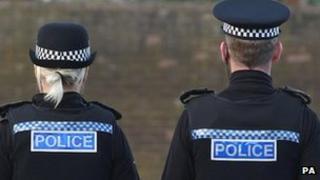 Millions of people who do not use the internet may be denied information about candidates for the new roles of police commissioner, warnings suggest.
The Home Office has ruled out posting details to households, as happens for elections of MPs, MEPs and mayors.
As a result, up to seven million people could be disadvantaged in November when commissioners are elected to set police budgets, the Electoral Commission says.
Ministers say elected commissioners will be more publicly accountable.
Police and crime commissioners [PCCs] will be elected in 41 force areas across England and Wales on 15 November.
They replace police authorities made up of local councillors, and will have the power to hire and fire chief constables.
Disadvantaged groups
Information people need to help them choose between candidates will be provided through a central website, the Home Office has said.
In other major elections, the government has funded a freepost mailout from candidates or the distribution of a booklet containing candidates' messages.
The Electoral Commission, which scrutinises polls, says it is concerned about the change.
In its responseto a Home Office consultation, the commission says: "Only providing information about PCC candidates on a central website will disproportionately affect groups that have low levels of internet access, such as the elderly and those who live in rural areas."
Voting system
The move is "especially concerning" given candidates will need to communicate with voters across much larger areas than, for example, prospective MPs, it adds.
Spokesman Alex Robertson told BBC Radio 4's Today programme that there was nothing wrong with putting information on the internet as a resource but "our concern is that it won't be able to reach all the voters".
The Electoral Commission wanted to ensure that Parliament was aware of the risk of disadvantage before final legislation was passed ahead of the PCC elections, he said.
Mr Robertson said that the commission was "very, very mindful of cost" and had set out a number of different options to the government, for example sending information to households rather than individuals.
But he said the government had indicated that it was unlikely to change its approach.
"We've also made the recommendation that if the government does go ahead with their proposal we make sure that the website is as accessible as possible. And for those people that have to rely on phoning up to ask for information to be posted out to them that that process works as smoothly as possible."
In some English cities polling will take place on the same day as mayoral elections and the body fears this may lead to confusion about which candidates are standing for each election.
Fears have previously been raised that the lack of a free mail-shot would leave independent candidates - not backed by major political parties - unable to fund a campaign.
And John Turner, from the Association of Electoral Administrators, told the BBC the "supplementary vote" system - allowing voters a first and second preference of candidates - must be sufficiently well explained.