Euromillions jackpot: £38m lottery winner claims prize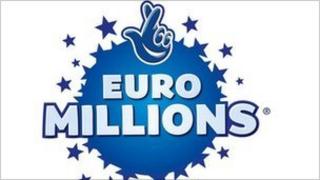 The UK winner of Friday night's £38m Euromillions jackpot has come forward to claim the prize, lottery operator Camelot has said.
It is the fifth time in a row that Euromillions has been scooped in the UK, and is the 11th biggest British lottery win.
No further information will be released unless the winner decides to go public.
Britain's biggest winners were Colin and Chris Weir from Largs, Ayrshire, who became £161m richer last July.
Winning streak
A Camelot spokesman said: "What a year it has been, this is the fifth big UK winner of 2012.
"We are looking forward to welcoming the ticket-holder into our millionaires club, joining the 2,800 millionaires created by the National Lottery to date.
"Every Euromillions player helps to contribute to the £30m raised every week for National Lottery Good Causes.
"The 370,000 National Lottery grants presented since 1994 have helped projects both big and small all over the country."
The UK's winning streak in Euromillions started when builder Gareth Bull and his wife Catherine, from Mansfield, Nottinghamshire, won nearly £41m on 20 January.
Young couple Cassey Carrington and Matt Topham, also from Nottinghamshire, won more than £45m on 7 February.
More than £46m was won in the UK on 24 February and £22.1m was landed on 2 March - but the winners chose to remain anonymous in both cases.