Q&A: Private investment in roads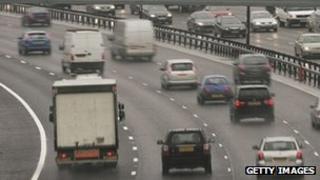 In a bid to improve England's ailing road network, the government wants to bring in private investors to run and maintain existing routes and build new ones.
How could this work?
The general idea is that companies would lease motorways and trunk roads from the government, maintaining and perhaps improving them by adding lanes, for which - as long as they met targets - they would be entitled to a share of road taxes.
The construction of new roads could also be taken on by the private sector.
Why is the government in favour of it?
Traffic congestion costs the UK economy about £7bn a year, the government estimates. One incident that closed a junction of the M25 London orbital during rush hour is alone thought to have cost £1.75m.
It is generally accepted that the road network desperately needs investment, after what the prime minister called "decades-long degradation".
But, in a climate of squeezed government finances, David Cameron said "innovative approaches" were needed to pay for road improvements.
The government firmly believes the private sector could run the roads more cheaply and more efficiently, getting a better return - pound for pound - on expenditure on the network.
How would the companies get their revenue?
Charging tolls to motorists would be one way.
There are already examples of tolls on the UK road network, such as the London congestion charge and at the Dartford Crossing.
The prime minister said road charging was only being considered for "new, not existing, capacity", offering the possibility of more routes like the M6 Toll road opened in 2003.
But Mr Cameron also cited the example of possible improvements to the A14 being partly-funded by tolling.
That would suggest the possibility of motorists being charged tolls for using roads that have had improvements like extra lanes or remodelled junctions.
Companies could also be paid "shadow tolls". This would again be a fee to the company per driver using a road, but paid by the government rather than motorists themselves.
Will motorists be prepared to pay?
As well as the few UK examples of road charging, many Britons have driven in continental Europe, where ministers say there are plenty of examples of what they have in mind for the network in England.
If congestion on the UK network worsens in line with Department for Transport estimates, which suggest the cost to business rising by £10-12bn by 2025, motorists may be increasingly prepared to pay for improvements.
But relatively recent evidence suggests British motorists hate the idea of charges; a national road pricing plan by the last Labour government generated approaching two million signatures to an online petition opposing the plan.
Current Labour leader Ed Miliband argued: "Loading extra costs on ordinary families for using our roads would be the wrong thing to do at this time. It would be wrong for them; it would be wrong for the economy."
Mr Cameron's use of the example of the water industry, comprising privately-owned utilities that are independently regulated, also generated some scepticism.
"Many consumers - drivers - will raise their eyebrows at that," said AA president Edmund King. "In the water industry we saw big companies make big profits initially, at the same time as water and sewage costs went up by 42% and 36%."
The plan would prompt concerns that the new private companies would take tax revenues from the government and then make their profits by scrimping on maintenance.
What has been the wider reaction?
Broadly, business and motoring groups have backed the plans and environmental groups opposed them.
John Cridland, director-general of the CBI employers' group, said: "The prime minister's ambition to get much-needed private investment into the strategic network could not have come at a better time."
And RAC Foundation director Stephen Glaister said: "There are just not enough public resources to provide the capacity we need and this offers the chance to make long-term plans for a utility every bit as important as things like water, power, electricity and the railways."
But Green Party leader Caroline Lucas said that the returns to private firms would end up costing the taxpayer much more in the long term, whereas the government could borrow for transport infrastructure improvements at a much lower interest rate than the private sector.
"We know that building more roads generates more congestion," she said. "That sounds counter-intuitive but there is such suppressed demand that, as soon as you build new roads, it frees up more traffic to go on them.
"So we don't don't want road-building in the first place, but we certainly don't want it at a cost that will mean the taxpayer is paying for it several times over."
Environmental campaigners want greater investment in public transport alternatives.
What happens next?
The Treasury and Department for Transport are to carry out a feasibility study looking at "new ownership and financing models" for the roads.
Their report is due in the autumn.