Pregnant woman's extradition to Argentina blocked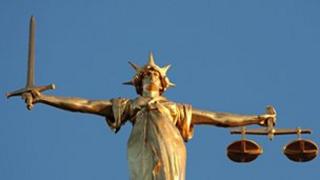 A woman due to give birth in May has avoided being extradited to Argentina to face drugs charges because of prison conditions in the country.
Lucy Wright, also known as Robertson, argued at the High Court extradition would breach her human rights.
Ms Wright, 29, originally from Bolton but now living in London, was arrested in Buenos Aires in 2007 while carrying more than 6kg of cocaine.
Her successful appeal is a rare example of the courts blocking an extradition.
Ms Wright was detained in March 2007 at the Argentine capital's international airport, shortly before she was to board a flight to the UK. She was bailed before trial, but fled to Brazil and from there back to the UK.
Two years later, she was arrested at the request of the Argentine authorities and taken to court in London to face extradition on the original drugs charge. A judge approved the application, but Ms Wright appealed.
The court heard that Ms Wright could not be extradited currently because she is in an advanced stage of pregnancy. If she were to be extradited following the birth in May, she would be required to leave her child in the care of her sister in the UK, it heard.
Alun Jones QC, defending Ms Wright, said she could be held for more than two years before trial in Argentina and could expect to serve a sentence in inhuman and degrading prison conditions.
The High Court also heard that Ms Wright had planned to challenge the Metropolitan Police and the Crown Prosecution Service for failing to investigate or charge her. Her lawyers said that she had been offering for three years to plead guilty to drugs offences in the UK.
Conspiracy to import
Mr Justice Silber said: "The appellant, who wishes to be tried in this country, has stated first that she admits she would plead guilty to a charge of attempting to import cocaine into the United Kingdom if charged in this jurisdiction, and/or being a party to a conspiracy to import into this country the cocaine found in her possession in Buenos Aires Airport."
The High Court stopped the extradition on human rights grounds, saying that Ms Wright could be subjected to inhuman and degrading treatment.
"It follows, in the light of our decision on the extradition proceedings that the Crown Prosecution Service will be free to bring proceedings against the appellant," said Mr Justice Silber.
The judge, sitting with Lord Justice Thomas, said they had blocked the extradition to Argentina partly because its authorities had failed to provide information relating to the prison conditions that Ms Wright would face.
"There is no basis whatsoever for assuming or believing that future attempts by the government of Argentina to obtain extradition orders will fail," said Mr Justice Silber.
"Our decision may well have been different if the government of Argentina had adduced proper evidence or given undertakings."
Ms Wright's case is a highly unusual victory amid continuing controversy over the UK's 2003 Extradition Act. Critics of the legislation and the related treaties with countries outside of Europe say the courts should have the power to decide whether a suspect should be tried in the UK.
British judges do not usually intervene in extraditions unless there are exceptional human rights considerations.
An independent review of extradition arrangements concluded the system was broadly fair. However, amid pressure from backbench MPs, Prime Minister David Cameron says Theresa May, the Home Secretary, is now conducting her own "proper, sober, thoughtful review".