Dog dirt in plastic bags 'threatens beach safety'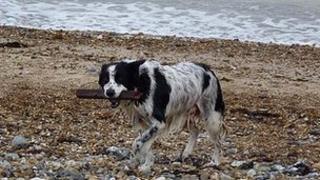 A growing trend for pet owners to bag up dog dirt and leave it on beaches threatens bathers' safety and the health of wildlife, a report suggests.
The annual Marine Conservation Society beach litter survey pointed to an 11% increase in such mess on UK beaches, including a 71% rise in Scotland.
It recorded an 11% drop in overall litter during a September weekend.
But the charity warns an 8% increase in balloons found could worsen as a result of Diamond Jubilee and Olympic events.
Conservationists have been pressing the Welsh government to ban balloon and sky lantern release events, saying they pose a choking and entanglement danger to wildlife.
Meanwhile, the Marine Conservation Society (MCS) says dog dirt causes high levels of bacteria and leads to both reduced water quality and a human health risk.
Sewage debris
Pet owners have been thinking ahead by carrying plastic bags, said Lauren Davis, who co-ordinates the annual Beachwatch campaign.
But she added: "We hope our findings will now encourage them to take the bag off the beach and bin it in one of the many receptacles provided for the job."
Almost 4,500 volunteers took part in the weekend event, cleaning 335 beaches and collecting 247,914 items of litter - equating to almost 1,741 pieces for every kilometre surveyed.
Despite this, Ms Davis described the results of the survey - between 16 and 19 September last year - as more encouraging than they had been for a while.
"We also saw a substantial dip of 33% in the amount of sewage-related debris on our beaches - that's the stuff people put down their loos but shouldn't, like cotton buds, condoms, sanitary towels and tampon applicators," she said.
The MCS has been conducting its Beachwatch survey since 1994, with litter levels reaching an all-time high in 2008.
Last year, ministers in Northern Ireland were so concerned by the fact only eight of its beaches received a Blue Flag award - the internationally-recognised standard of a clean beach - they convened a summit on the issue.
This was despite the 2010 Beachwatch survey finding it had some of the UK and its dependencies' tidiest beaches, behind only the Channel Islands.
In 2010, British Waterways launched a campaign to stop dog walkers leaving bags of dog dirt hanging from trees and hedgerows near canals.