Newspaper review: Papers mull Osborne's Budget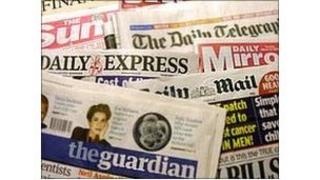 One word is used by both theGuardianand theIndependentto sum up the chancellor's Budget - a "gamble".
"An audacious roll of the dice" is how theFinancial Timesdescribes his move to cut the top rate of income tax.
Writing in the Daily Telegraph, former Chief Secretary to the Treasury David Laws says: "Mr Osborne has played his cards very well".
Shadow chancellor Ed Balls disagrees,telling the Daily Mirror it was a Budget for the wealthynot the poor.
Tax change
"Granny tax hits five million pensioners"is the main headline in the Daily Telegraph.
The Telegraph says "prudent savers" will be hit in what it calls a "stealth raid".
TheDaily Express describes the changes to the personal tax allowance for pensionersas "reprehensible".
TheDaily Mail believes it was "dishonest"of George Osborne to present the change as a "simplification" of the system.
Economic growth
For theFinancial Timesit was an "unashamedly pro-business" Budget.
But the paper adds that while big business was delighted by an extra cut in corporation tax, manufacturers had wanted the chancellor to do more to remove barriers to growth.
TheIndependentis concerned that there were no new measures to create work for the young unemployed.
When it came to what Britain needed - economic growth - there was "little more than warm words", it says.
Massacre reaction
Away from the Budget, many papers carry images of distraught mourners at the funeral in Israel of the three children and teacher shot dead in Toulouse.
TheFinancial Timessays the killings have prompted a bout of national soul-searching in France, at the height of a bitter presidential election race.
TheTimesis impressed by President Nicolas Sarkozy's response.
Since the massacres on Monday even the president's opponents recognise that he has not put a foot wrong, it says.