Leveson Inquiry: Summary of week 15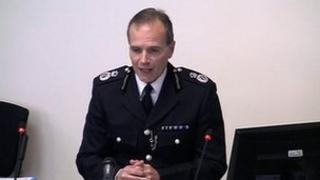 This week the Leveson Inquiry into media ethics heard officers in Scotland's largest police force were likely to have been paid for information.
Meanwhile, the UK's highest ranking policeman said relations with the press had become too close in the past.
On Wednesday, Strathclyde Chief Constable Stephen House told the Leveson Inquiry the force had launched 45 probes into leaks to the press in the last five years.
Mr House
He said that when he had taken over as chief constable he "did the rounds" of meeting editors to outline the relationship he wanted with the press.
"Contact with the media is part of the job but must be within certain bounds, professional and for the public good," said Mr House, who had been mentioned as a candidate for the job of Metropolitan Police commissioner last year.
The man who got that job, Bernard Hogan-Howe, told the inquiry
Addressing the inquiry on Tuesday, the Metropolitan police commissioner said he had launched a clamp down on "inappropriate relationships" and police leaks to the media.
Officers' meetings with journalists are now recorded, but Mr Hogan-Howe said he was not trying to stop officers giving "appropriate" information to the press.
However, Mr Hogan-Howe said he accepted he may have set the bar too high and created a too "austere" regime in the Met that has affected normal working relationships between police and the media.
And on Monday
David Harrison, who carried out surveillance of a suspect for Suffolk Police, said the newspaper hired ex-special forces soldiers.
He said they carried out their own surveillance and that could have resulted in police losing track of him.
Mr Harrison, a retired Serious and Organised Crime Agency (Soca) investigator, said he was deployed to help Suffolk police keep a suspect - who was later cleared of involvement - under surveillance in December 2006.
But he said the NoW employed its own investigators to follow the police team.
Lord Leveson questioned why the newspaper's actions could have impeded the investigation.
Mr Harrison said if the suspect had been the real killer, and the press had enabled him to lose his police surveillance team, the investigation could have been hampered if he had disposed of evidence or committed further offences while "out of control".
"If our surveillance had been weakened by having to try and avoid other surveillance teams looking for us, if we had lost the subject, he may have gone and committed further murders because we were dealing with something else," he said.
Steve Wright, 53, was jailed for life in 2008 for the murders of five women who worked as prostitutes.