Community service: 'I went on to re-offend'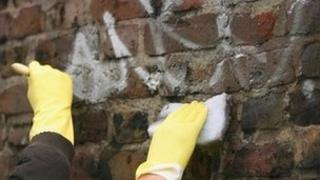 Community sentencing for offenders in England and Wales could get tougher under proposed plans.
Changes to be set out by ministers later could include wider use of electronic tagging using GPS tracking and intensive punishment orders including curfews and travel bans.
Probation union Napo said tougher sentences may see more offenders fail to meet their requirements. Here you share your experiences of community service.
Anonymous, England
I served a few community service sentences and helped supervise a few offenders. The lack of supervisors and resources severely impacted decent and effective delivery.
My recent and worst stint was after my divorce - I got 180 hours of community service after being accused of assaulting my ex-wife - which I deny.
The previous two offences I admit were my fault. I got 90 hours for being drunk and disorderly and then I got 120 hours for assaulting someone on a train. I never had to have a tag for my offences.
Most of my community services included tidying up roadside verges and litter picking.
I don't think it did me any good because I went on to re-offend.
I have amended my behaviour and believe I have reformed - not because of my community service but other factors outside of the system.
The worst thing about the sentences was not the tasks themselves but spending every Sunday doing them, it meant not seeing my children or missing out on paid work.
One time we had to mow the lawn at a local graveyard - the vicar loved us and it was very helpful to the small amount of people attending the church but I don't think it benefited the community as a whole.
Whereas when I served my community sentence on a council-run allotment I could see the difference it made to the community.
It was very well run but the problem was the people doing their community service didn't take it seriously and the supervisors were under resourced. One supervisor had to look after 14 people at one time.
There was a distinct divide between people that took it seriously and those who couldn't care less.
Those there for jumping a red light took it seriously, they were there to get on with it and do their time.
Those caught with a gram of cocaine in their pocket after a night out were always taking the Mick, doing nothing and not taking it seriously at all.
Frank, Essex
I served community service for 90 days. I finished my stint in July 2011.
It mainly involved litter picking in public places with others on community service.
I was accused of knocking down my landlord's wall without permission and therefore had to serve a community sentence.
On the one hand I think community sentences are good as a punishment but on the other hand I really don't think it gives much back to the community.
For example one person couldn't be bothered to tidy up - he said he was bored and wandered off. He said he was going to smoke a joint and just sat in the corner smoking.
I was with a mix of people - most people were there because they had committed driving offences but another guy was there because he had beaten up his girlfriend.