St Nazaire marks one of WWII's most daring raids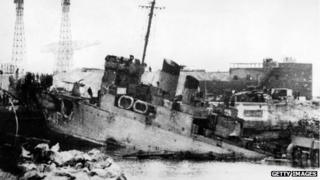 A ceremony to mark the 70th anniversary of a daring World War II raid has been held at St Nazaire in western France.
The last remaining British veterans of the mission to destroy the town's docks gathered in the town.
Operation Chariot saw the old destroyer HMS Campbeltown packed with explosives and rammed into the Normandie dock.
The explosives detonated and wrecked the dock, preventing it being used as a base for the German battleship Tirpitz to threaten Atlantic convoys.
Before the massive explosion, commandos who had sailed on the Campbeltown fought German troops in the town for several hours.
Although the mission was a success, 169 British servicemen died in the raid and 215 were captured. Five Victoria Crosses were awarded.
A wreath-laying ceremony was held on Wednesday at the graves of some of the British servicemen who died in the raid, in a area of the town known as "English cemetery".
In bright sunshine, a French military band played as serving soldiers from both Britain and France gathered alongside a handful of surviving veterans.
One of the commandos attending the anniversary event, Corran Purdon, who was 20 at the time, said: "I thought it was going to be a pretty dicey do, to be honest. But I never thought we wouldn't do it."
A memorial sits in front of the Place du Commando by the town's waterfront.
The veterans were in sight of the docks where they took part in the crucial battle.