'Tesco Law' allows legal services in supermarkets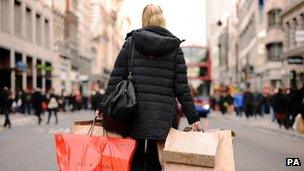 A big shake-up of legal services has removed restrictions on where such products may be sold.
Three firms have been given licences under the so-called Tesco Law, and can now operate as Alternative Business Structures (ABSs).
They can offer legal services alongside businesses such as supermarkets, banks, and High Street shops.
The new set-up also means solicitors can seek external investment in new ways.
Co-operative Legal Services, Lawbridge Solicitors Ltd, a family-run firm based in Kent, and John Welch and Stammers, Oxfordshire, have been all been granted licences.
Justice Minister Jonathan Djanogly said: "This is a huge milestone for UK legal services and the future of Alternative Business Structures.
"ABSs introduce more competition in the market place, delivering competitive pricing, higher standards of product and more choice for the consumer.
"Our UK legal services are unrivalled around the world and these changes will allow them to reach new heights, as solicitors' firms develop new markets, seek external investment and join up with other businesses to offer different products to consumers and provide opportunities for growth."
Eddie Ryan, managing director of Co-operative Legal Services, said: "When the Legal Services Act was first drafted it was envisaged that its enactment would enable consumer brands to enter the closed world of legal services, so this is a historic occasion not only for the Co-operative Legal Services but for all customers needing access to legal services in the UK."
The licences have been issued by the Solicitors Regulation Authority (SRA), authorised by the Ministry of Justice.
The SRA began accepting applications in January.
Antony Townsend, SRA chief executive, said: "The arrival of ABS should foster a more flexible and innovative market for legal services. By stimulating competition and encouraging innovation, we should see consumers' experiences enjoy a major boost."
Related Internet Links
The BBC is not responsible for the content of external sites.