Terror suspect Hilal Al-Jedda may return to UK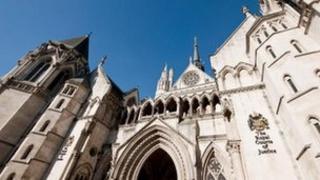 A man once held in Iraq as a suspected terrorist may come back to Britain after the Court of Appeal cleared the way for his return from Turkey.
Hilal Al-Jedda, 54, a British national, was detained without trial for three years by British forces in Iraq after being detained in Baghdad in 2004.
He was suspected of being involved in weapons smuggling and bomb attacks.
Three appeal judges "reluctantly" decided the decision to strip him of British nationality was fatally flawed.
The court said the quashing order would be delayed to allow Home Secretary Theresa May to consider challenging the ruling in the UK Supreme Court.
After being released from detention in Iraq Mr Al-Hedda he went to live with relatives in Turkey in 2007.
Fled Saddam Hussein
The court heard Mr Al-Jedda first came to the UK in 1992 when he fled Saddam Hussein's regime in Iraq.
He was granted asylum and in 2000 was granted British nationality.
But he returned to Iraq in 2004 and fell under suspicion from US soldiers, who then handed him over to British forces in Basra.
In December 2007, shortly after he was released and went to Turkey, he was stripped of his British nationality by the then Home Secretary Jacqui Smith.
That order was later upheld by the Special Immigration Appeals Commission (SIAC).
But appeal judges Lord Justice Richards, Lord Justice Stanley Burnton and Lord Justice Gross ruled on Thursday they had "no choice" but to allow his appeal against the stripping of his British nationality.
Lord Justice Richards said: "In one way that result is deeply unsatisfactory, in that the Secretary of State is satisfied, for reasons upheld by SIAC, that to deprive the appellant of his British nationality is conducive to the public good."
But he said it was clearly laid down by Parliament that no person could be deprived of British nationality if it would leave them stateless.
The judge said:"It appears that at the time of making the order the Secretary of State was unaware that the grant of British nationality to the appellant had caused him to lose his Iraqi nationality, and that the issue of statelessness was therefore not given the consideration it would otherwise have been given."