Are voters 'alienated' from main political parties?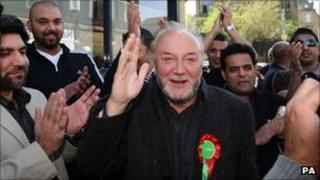 George Galloway's surprise victory in the Bradford West by-election shocked the political establishment. But was it a one-off or a sign of things to come?
The Respect Party candidate took the previously safe Labour seat, saying his success was largely due to the number of disenchanted people who were "alienated" from mainstream parties.
Conservative MP Douglas Carswell echoed his comments, suggesting new insurgent parties would continue to gain "market share" due to a growing disconnection with the political process.
"There is a crisis of confidence in the ability of voters to elect people who can change the public policy settings within the community," he told BBC Radio 4's Today Programme.
"There is a sense that we are governed by a little Westminster clique and in a sense it's right.
"Key public policy decisions are not made by the people that we vote for at all. They're made by Whitehall technocrats and human rights judges," added the outspoken backbencher.
War issue
Mr Galloway was expelled by Labour in 2003 after speaking out against the Iraq War, accusing Tony Blair and George W Bush of acting "like wolves" by invading.
His views on Afghanistan became one of the main talking points of the recent election campaign when he claimed British soldiers killed there had "died in vain".
His comments came just weeks after five members of 3 Battalion, The Yorkshire Regiment, were among six who died in an explosion in Kandahar province.
While feeling on the subject may have been high enough to affect the West Yorkshire poll, Mr Carswell said internet campaigning will also help those challenging the major parties in the future.
"[It] is profoundly changing the way we do politics in the community," he said.
Political Journalism Professor Ivor Gaber, from London's City University, said intensive online media scrutiny had increased people's expectations.
"Politicians not just in the UK but worldwide are not able to meet these expectations."
Former cabinet minister Michael Portillo said that historically political leaders were not expected to be in touch with voters.
"I don't think Ted Heath or Harold Macmillan were particularly in touch but people didn't expect them to be.
"It's more of our changing expectations as a public."
He told the Today programme that both the Labour and Conservative parties were in peril.
"The Conservative Party has recently looked out of touch.
"Margaret Thatcher, who was brought up as a grocer's daughter, famously knew the price of everything," he added.
Former Labour Home Secretary Jack Straw said politicians had to get out and talk to people.
"As the world has become - in a sense - more global, people lose their hand-holds and they want to be part of a community. So politics has to become more local."
'Too early'
Political analyst Adrian Lee said it was too early to say whether Mr Galloway's victory was a sign of things to come.
"We'd need two or three Bradford West's before we can talk about significant developments.
"But normally one can expect the main opposition party to be doing well in by-elections, particularly with regards to their safe seats."
Liberal Democrat president Tim Farron, often seen as a voice of the party's grassroots, said politicians had to know their community to be able to represent them well.
"You need to be immersed in your community - not an outsider who jumps in at the last minute with a dollop of money to gain that seat without much effort or to capitalise on protest."
That was not an issue in Bradford West, where Labour candidate Imran Hussain was a city councillor.
But Mr Farron said that, in general, politicians must tap in to - and campaign about - the issues people care about to ensure they do not "turn away" from parties.
Nonetheless, the by-election result could simply be one of those mid-term blips, he said.
"There will always be people in by-elections who use it as an opportunity to vote against a government, or the party that has always represented the area."