No new search for Condor Rapide ferry missing woman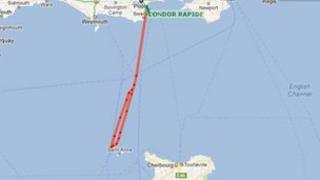 The search for a woman thought to have fallen from a ferry in the English Channel will not resume, the Maritime and Coastguard Agency has said.
The Condor Rapide was en route from the Channel Island of Guernsey to Poole in Dorset when the alarm was raised at about 17:30 BST on Sunday.
A major air and sea search of the routes was suspended after five hours.
The family of the missing woman, who is believed to be from the Bristol area, has been informed, Condor Ferries said.
A spokeswoman for the company said it was an "appalling and difficult situation" for the passenger's family and she was unable to comment further.
Coastguard rescue helicopters from Portland and La Hague, lifeboats from Weymouth and Alderney, Channel Islands Air Search and the French Coastguard were all involved in the search.
An MCA spokesman said the temperature of the water had been the deciding factor in the decision to call off the search on Sunday night.
Passengers on board the ferry, which operates between Guernsey, Jersey and Dorset, were also asked to search for the woman.
Dean Myatt said he was one of about 60 passengers who headed to the upper decks: "For the first five to 10 minutes there was rustling around and everyone was quite loud, but (that changed) as soon as it set in what was going on with helicopters passing over.
"It kind of got a bit spooky almost, it was really quiet, really eerie."