HMS Dauntless sets sail for the Falklands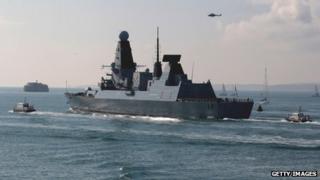 HMS Dauntless, one of the UK's largest and most powerful air defence destroyers, has set sail for the Falkland Islands.
The Ministry of Defence says it is a "pre-planned and routine" six-month deployment in the South Atlantic.
However, it comes days after the 30th anniversary of the start of the war.
The decision to send the ship has already prompted an official complaint by Argentina to the UN about the UK's "militarisation" in the South Atlantic.
HMS Dauntless, a Type 45 Destroyer, sailed from Portsmouth and was seen off by crowds of flag-waving well-wishers.
It will relieve HMS Montrose and carry out operations off the coast of west Africa and the wider South Atlantic, with planned port visits in both west and South Africa.
BBC defence correspondent Jonathan Beale said it was unlikely that there would be any visits to Argentina's ports.
The Royal Navy said it was the first operational deployment for HMS Dauntless since it was commissioned in 2010.
Commanding Officer Captain Will Warrender said: "HMS Dauntless' ship's company has been working extremely hard over the last year or so to prepare for our first operational deployment.
"We are now ready to provide a reassuring presence in the region and protect British interests."
A total of 255 British servicemen and about 650 Argentines died after the UK sent a task force following the Argentine invasion on 2 April 1982.
Britain has controlled the Falklands since 1833 but Argentina claims the territory - which it calls the Malvinas - saying it inherited rights to them from Spain.
UK Prime Minister David Cameron, who marked the anniversary in Britain, said he remained committed to upholding British sovereignty over the islands.
However, at a ceremony to mark the 30th anniversary in Argentina, President Cristina Fernandez de Kirchner attacked the UK government's stance on the Falkland Islands, saying: "Every day that goes by it looks more ridiculous, more absurd to the eyes of the world."
She went on: "It is an injustice that in the 21st Century there are still colonial enclaves... 16 colonial enclaves throughout the world - 10 of those belonging to the United Kingdom."