Kate and William waxworks unveiled at Madame Tussauds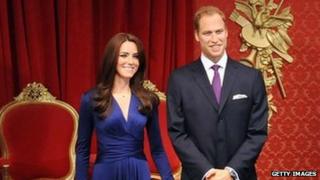 The first waxworks of the Duke and Duchess of Cambridge have been unveiled at Madame Tussauds.
The figures were modelled on a photograph of the announcement of the royal engagement at St. James's Palace.
The couple will be featured among a long line of royals immortalised in wax.
Madam Tussauds says it expects the attraction to be very popular, as this is the first waxwork of the Duchess of Cambridge to be exhibited.
Liz Edwards, from Madame Tussauds, said: "Catherine has her own star quality so we are expecting a lot of people to come."
The firm says visitors have been asking for the royal couple to be added to the exhibits since the engagement was announced in 2010.
The figures took four months to make and cost £150,000 each, with a team of about 30 people painting the eyes, adding the hair strand by strand, and styling the clothes and accessories.
Scupltor Stephen Mansfield, who worked on wax figures of David Cameron and David Beckham, created William's wax head.
Louis Wiltshire, who made Kate's head, said: "It takes about five weeks to sculpt the head in clay, and the body takes about the same time."
The blue Issa dress that Kate is wearing was specially replicated by the Madame Tussauds fashion label.
Accesories included a copy of the Duchess's sapphire and diamond engagement ring and the Duke's Omega Seamaster watch.