Your memories of the Queen's 60 years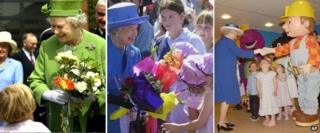 Throughout the Queen's Diamond Jubilee year we are featuring some of your memories of meeting and seeing Queen Elizabeth II.
While children have formed an important backdrop to the various celebrations and landmarks of the Queen's 60 years on the throne, it is impossible to predict what a child will do - whether it is waving a flag or breaching security.
Many of you have sent in your recollections of meeting the Queen when you were a child, or of seeing your own children meet her.
Here are some of the memories you shared:
Lesley Smith, Glasgow, in 2002
The Queen was coming to George Square in Glasgow as part of her Golden Jubilee tour and my husband and I decided to take our two children, Emma and Garry, to see her.
While we waited we got talking to some elderly and disabled people standing inside the barricade and they asked if our two children wanted to stand with them so they were closer for seeing the Queen.
When she came out, my seven-year-old daughter Emma just started to run with her flowers to the Queen, shouting at her 10-year-old brother Garry to follow.
The security men were quick to put their hands on the children and stop them - and the crowd started to chant "Let the children go! Let the children go!"
The Queen must have heard the commotion, because she turned round and waved for Emma and Garry to come on to the red carpet to meet her.
The children went forward and she spoke to them and took the flowers from Emma. Then they walked back to us with the crowd cheering and clapping.
The roar of the crowd on that day will stay with me always.
Lesley Smith, 40, lives in Sandford, South Lanarkshire
Emma Smith, Glasgow, in 2002
I was only seven and was so small I couldn't see over the barriers, so the disabled people on the other side of the barrier said to me and my brother to join them.
When the Queen came out of the marquee I got really excited and just wanted to give her my flowers.
So I ran towards her and called to my brother "come on, let's go over", but then the security guards stopped us.
The crowd were chanting at the guards to let us go and the Queen saw there was a commotion and said something to a lady who was with her.
She then waved for us to come forward, so we went right up to the Queen.
I curtsied and my brother said "Thank you for letting us come over." I remember she said to us, "Are you enjoying your day?"
I was completely tongue-tied so I gave her my bouquet and then ran back to my parents.
I remember that she was lovely. She wasn't snobby, just really down to earth and happy that everyone was there to support her.
I wrote to her this year to say I'd met her in Glasgow during her Golden Jubilee visit and she wrote back, saying thank you and that she remembered meeting me.
She included a booklet with photos of her throughout her reign, a collage of new and old photos which is really lovely.
Emma Smith, 17, lives in Sandford, South Lanarkshire
George Rix, Germany, in 1967
I met the Queen in Germany in August 1967, I was 10 years old.
My father was stationed there as a sergeant in the 2nd Royal Tank Regiment, part of the Royal Armoured Corp of the British Army.
It was the regiment's 50th anniversary and the Queen was to watch and inspect the Parade with German Chancellor Keisinger.
All married soldiers had their names put in a hat and a number were drawn out to be introduced to the Queen. My dad was one of them.
No monarchist, he wasn't happy but couldn't refuse. He also knew my excited mum would want new clothes for herself, two sons and two daughters - it was going to be expensive.
It also meant he would have to get out of his tank suit and into best uniform in a hurry and hours would be spent polishing his best army boots to ceremonial standards.
The day came and after the parade the Queen went to lunch while we got ready to meet her an hour or two later.
I ended up playing football with tin-cans with other boys of the regiment.
By the time I got back to the gathering circle l wasn't what Mum had planned - I was sweaty, the knees of my new trousers were green from slides on the grass.
Her frantic efforts to clean them with a hanky were wasted.
Not that the Queen looked at my knees when the colonel told her my name and we shook hands. I got a smile back off her for the broad grin on my own face and I remember it as clear as a bell.
George Rix, 55, lives in London
John Strachan, Botswana, in 1979
I was at the high school in Francistown in Botswana when the Queen visited in 1979 because my father was working there. I was 13.
Before the visit we spent a couple of weeks at school creating British memorabilia, British flags and red, white and blue hats and caps.
Everyone was extremely excited about her visit.
On the day she arrived the entire school - around 400 children - walked to the airport, which took approximately three hours.
The walk was a really jolly affair. We had on our school uniforms and our red, white and blue flags and hats.
There were children from other schools there and we all waited for around two hours for her plane to land. It was like a festival.
We sang the British national anthem, waving our memorabilia and cheering for the Queen. We were at the railings waving and cheering and she waved back to us.
She was there for about 30 minutes, changing from the large plane she arrived in to a smaller one used by the President of Botswana.
After she left, I found out that the runway in the capital Gaberone wasn't long enough for the Queen's plane to land, so she had to change to a smaller plane in Francistown.
It made for a special memory.
John Strachan, 46, lives in London
Susan Davey, London, in 1986
The Queen's 60th birthday was magical for me. I share her birthday, 21 April, although I was born the same year as Prince Charles.
My three children belonged to the local scout band and were asked if they wanted to take part in the Queen's birthday parade down The Mall.
My sons played in the 14th Southgate Band, one on trumpet and one on the bell lyre, and my daughter was in Southgate Gold, which was their colour guard, carrying the flags.
There were three bands and lots of children walking behind - they were all carrying daffodils.
The sight of so many children waving bunches of daffodils was glorious, The Mall was a sea of yellow! Her Majesty looked wonderful and was dressed in yellow too.
I felt so proud as I watched the children celebrating the Queen's birthday.
I'm not as excited this year for the Diamond Jubilee, and my children aren't taking part in anything, but I think it's fantastic that she has served so long.
I can remember watching her coronation on television when I was five and thinking how lucky were were to have such a pretty queen.
Susan Davey, 64, lives in Enfield
Tina Davey, London, in 1986
I'm not sure why our band was chosen to take part in the procession, but I do remember we had to draw straws for each band's order in the parade and we were really lucky that our band was drawn first, so we led the whole parade.
We all gathered in Horse Guards Parade. It was really noisy, with children everywhere. Lots of excitement and anticipation!
The songs we did were all regular songs from church parades, like St Louis Blues and Trumpet Voluntary, so we knew them really well.
I remember thinking it was a real privilege to go inside Buckingham Palace and be on the other side of the gates.
The Mall is a long stretch, but to be honest it was like one minute we were at Horse Guards Parade and the next at the end of The Mall, singing happy birthday to the Queen and giving her our daffodils.
I can't wait for the Diamond Jubilee celebrations. My parents took us to London for the Silver Jubilee in 1977 and I can't wait to take my children up for the Diamond Jubilee celebrations so they can see a part of history.
Tina Davey, 41, lives in Enfield
Steve Mann, Chelmsford, in 1957
I was a nine-year-old schoolboy waiting with 90 others at a Chelmsford roadside in around 1957. We were delighted to get out of the classroom so there was lots of noise and extreme excitement at the imminent arrival of the Queen's entourage.
None of us had ever seen the Queen "live" and didn't know how she was going to arrive.
All of a sudden the crowd erupted in noisy celebration and cheering. Over the throng and the wildly excited sea of heads, school caps and union flags, we saw what appeared to be a hut on the back of an approaching lorry.
As it slowly passed, the cheering reached a crescendo as we all expected the Queen to be waving from one of the hut's windows.
Not until it had passed, did we all realise that it was just a lorry and garden shed released from the cordon early and just ahead of the Queen's procession.
The memory of the pleasure and excitement when she passed moments later, waving to the crowds on either side, is etched forever.
It was the early days of television and part of the excitement was we hadn't ever seen the Queen, except on biscuit boxes or coffee tins or in newspaper photographs.
Nowadays, everyone sees her on television regularly and I don't have the same excitement I had then, royalist though I am.
Steve Mann, 63, lives in Burnham-on-Crouch