Newspaper review: Water companies criticised as ban starts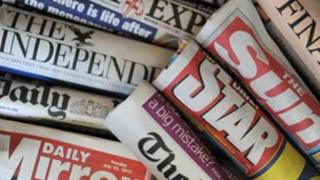 As the hosepipe ban comes into force in many parts of England, there is a renewed focus on the water companies.
TheDaily Mail reports that £4m in bonuses were paidto the directors of water firms in the last financial year, despite their failure to repair leaks.
TheDaily Mirror complains that water bills have soaredby nearly 6% - but there is no opportunity to switch firms to save money like with gas and electricity.
TheDaily Telegraph reports that gardeners have threatenedto flout the ban.
It says water companies have admitted they are not employing inspectors, and do not expect to fine people.
Surfing prince
The Independent shows families snowed in while caravanning in Yorkshire.
The paper says the outlook is also gloomy for those yet to leave for their holidays, with the warnings of gridlock at airports.
TheGuardianhas a striking picture of King Edward VIII, then Prince of Wales, riding a wave in Hawaii in 1920.
It is among a number of rare images obtained from a descendant of the legendary Hawaiian surfer and Olympic swimmer, Duke Kahana-moku.
Cheap meat
There are warnings that the price of burgers, sausages and pies is to rise.
TheTimesreports that a technique for stripping cheap meat from the bone using low-pressure hoses is to be banned from the end of this month.
TheMail says it is the result of a disagreement over the definition of the meat, rather than health and safety.
A number of papers contrast Britain's moves regarding deporting Jordanian preacher Abu Qatada with France's expulsions of three extremists.
TheTelegraph wonders how the French have managedto do this, when it is not allowed under the European Convention of Human Rights.
After all,the Mail says, France is no less subjectthan Britain to the convention.
According to theSun, Nottinghamshire is Britain's "luckiest lottery county".