London 2012: Gunnell gives design 'stamp' of approval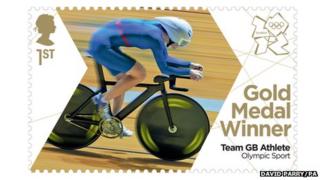 British gold medallist Sally Gunnell OBE has given her stamp of approval to a new design issued by Royal Mail.
She unveiled a mock-up of a new stamp to be printed celebrating everyTeam GBgold medal win at the Olympics.
The stamps will feature a photograph of the athlete or team in action - but only if they win gold.
"I think it is just the most amazing thing. I think it's something the athletes won't quite believe when they see their faces on them," said Gunnell.
Royal Mail staff will work around the clock to get the stamps into 500 UK Post Offices by lunchtime the following day after a win.
"It's something to be very proud of," Gunnell added.
"I really believe that what the Royal Mail has done is create a situation where people will think, 'I want to remember these Olympics - what's the best way?'
"This is something that will really capture everybody's imagination."
Personally iconic
The design was unveiled at the Olympic Stadium and 400m hurdles champion Gunnell said it would have been personally iconic if she had, had the opportunity to be on a stamp.
"It is something that would have meant a lot. I would have been first out there buying some."
It will be the first time a host country has used action shots for gold medal stamps which will be issued the day after any win.
Where it is not possible to use such an image, Royal Mail will use a picture of the athlete taken from a heat or from their gold medal award moment on the podium.
"They will be unique souvenirs of the Games, marking the great achievements of our talented athletes," Moya Greene, Royal Mail chief executive, said.
"They will be a special way for people across the country to celebrate Team GB's gold medal wins and help mark their amazing achievement.
"We look forward to issuing many stamps to honour Team GB's victories."
The stamps will be available online and then distributed three times during the Games to a further 4,500 Post Offices around Great Britain.
Royal Mail issued four stamps for the 1948 Games which featured the Olympic rings, but did not issue any in 1908.
On the day of the opening ceremony, 27 July, the Royal Mail's "Welcome to the Olympic Games" stamps will also go on sale.
And on 29 August, it will become the first postal administration, in a host City, to issue a set of stamps to celebrate the start of the Paralympic Games.
In January sets of"everyday" first class stampsdisplaying the Olympic and Paralympic logos went on sale.