Newspaper review: Should politicians' taxes be open?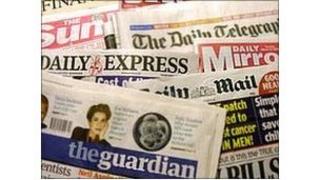 The decision by London's mayoral candidates, Boris Johnson and Ken Livingstone, to publish details of their earnings and tax divides opinion.
The Daily Telegraph believesthat their openness will have longer-term effects, as the release of tax records will become a prerequisite in mayoral campaigns and general elections in Britain.
The paper thinks it should be a basic requirement that those whose decisions reach into every wallet in the land can show they are subject to the same rules as voters.
The Daily Mirror saysit wants to now see the tax returns of ministers with what it calls "private fortunes".
The Times agreesthat cabinet ministers will face mounting pressure to "come clean" about their tax affairs.
But the paper is sceptical about the new precedent.
It says it would make it more difficult to widen the net of people running for high elected office and we should be able to assume politicians obey the spirit of the law.
The Sunand the Mirror are reporting that Karen Matthews - who was jailed for kidnapping her daughter, Shannon, in 2008 - has been released from prison.
She had served only three years of an eight-year sentence.
The Sun says Matthews is now living in a probation hostel at a secret location and has been "banned" from returning to her home in Dewsbury Moor, West Yorkshire for her own safety.
The Daily Starsays Matthews is set to appear on Jeremy Kyle's TV show.
The Daily Mailclaims the government is preparing a "dramatic U-turn" over plans for secret court hearings where sensitive security information is involved.
It says Justice Secretary Ken Clarke and Home Secretary Theresa May are desperately resisting plans to dump the proposals which were revealed recently.
The Independentis one of several papers which reports the conviction of a millionaire's daughter for rioting.
The paper says an investigation has started into allegations that a detective sent text messages to Laura Johnson.