Newspaper review: Tax issues dominate news agenda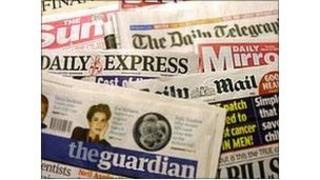 Chancellor George Osborne's interview in the Daily Telegraph, in which he supports the idea of publishing politicians' tax records, is not the only discussion of tax matters in the Saturday papers.
TheFinancial Timessuggests Mr Osborne may not raise the £150m a year he is expecting by increasing the Stamp Duty from 5% to 7% on homes worth over £2m.
The measure was announced in last month's Budget but the FT says lawyers have found new loopholes to circumvent the tax, including a scheme which involves buyers signing multi-year leases.
The Guardiansays it has obtained a secret report from 2004 which warned Metropolitan Police chiefs they needed to take tougher action to stop officers discriminating against black people.
It was written by Brian Paddick, then a Met Police commander and now Liberal Democrat Mayoral candidate in London.
TheDaily Mailsays police are investigating "an appalling drunken outburst" by a PC accused of racism.
It says the case raises disturbing questions about racism in the ranks.
The attempted murder of Russian banker German Gorbuntsov outside his London home has led to a thaw in Anglo-Russian relations, according toThe Times.
It says the Serious Organised Crime Agency has been rebuilding links with the Russian police after the shooting.
The Independentsays the first human egg cells grown entirely in the laboratory from stem cells could be fertilised later this year.
It says it could lead to an endless supply of eggs for infertile women.
"Terrified Ryanair passengers told how their plane plunged 20,000 feet as a pilot yelled 'Mayday, Mayday'"the Daily Mirror claims.
Jacqui Frater, who was on her way back from Italy, said: "We were literally falling out of the sky and the ground was coming closer every second."
Ryanair has apologised for the incident; it said the plane descended 10,000 feet after a loss of cabin pressure and the passengers disembarked normally.
The Sunhas chosen Easter to inquire into the nation's religious beliefs.
It commissioned a Yougov survey of 1,700 adults and found that three quarters knew all the words of the Lord's Prayer.
More than half pray at least sometimes, though fewer than a third are sure that prayer works.