Newspaper review: Boat Race swimmer drama amuses papers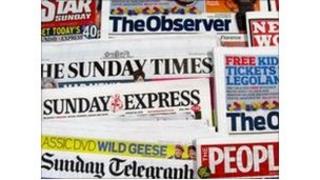 Against its own expectations, no doubt, theSunday Mirrorfinds itself asking the question "Who said the Boat Race was boring?"
With "a swimmer in the water, a snapped oar, and a collapsed rower"The Independent on Sundaysays it was "the most incident packed" race in history.
The headline writers rise to the challenge - "Shock and oar" is the punning phrase used byThe Sun.
TheSunday Expressasks: "Was this a race hate crime?"
Questions about class are being asked by some as the papers continue to chart what they see as changes in the political landscape since the Budget.
The Sunjudges that George Osborne's decision "to make the rich richer - including himself - while the poor get poorer" was "an insane miscalculation".
Andrew Rawnsley - inThe Observer- thinks the Budget, and the remorseless battering that has been handed out to Mr Osborne since he delivered it, have opened a distance between the chancellor and the prime minister.
TheSunday Timesbelieves the government was right to cut the top rate of tax to attract "wealth creators" to Britain.
But even so, the paper is concerned that greater openness about tax, and about the earnings of politicians, may merely "fuel the politics of envy."
TheMail on Sundayclaims an opinion survey suggests David Cameron is out of touch with voters.
It says 61% of those questioned felt he led a "government of chums".
TheMail on Sundayalso focuses on the Queen's controversial invitation to the King of Bahrain to a Diamond Jubilee banquet at Windsor Castle.
Bahrain has cracked down on political protests and the paper says the invitation could embarrass the Queen.
Finally, theSunday Mirrorreports that an appeal has raised £105,000 for medical equipment and care for a young girl who was shot by a gang in London.
Thusha Kamaleswaran, now aged six, is pictured tucking into a basket of Easter eggs.
The Mirror, which has an exclusive deal with Thusha's parents, shows her fulfilling her dream of riding a pony despite injuries which have paralysed her from the waist down.
Thusha tells the paper: "It's so ­exciting. I've ­always wanted to ride on a horse, it's an amazing ­feeling."