British Chinook makes emergency landing in US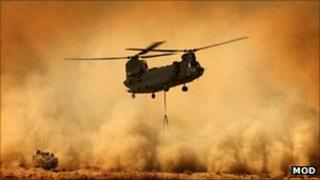 Seven crew members of an RAF Chinook helicopter have escaped injury after their aircraft made an emergency landing in the southern US.
The crew was practising how to land northeast of Yuma when "something went wrong," a US Naval spokesman said
A Ministry of Defence spokesman confirmed the Chinook had made an emergency landing at 19.30 BST on Saturday.
An investigation has been launched into the incident.
The AP news agency reported the helicopter landed in the Arizona desert, 15 miles northeast of Yuma.
The MoD spokesman said all those aboard were uninjured.
US Navy spokeswoman Michelle Dee told the AP news agency the Chinook had been operating from a naval base in Imperial Valley, California.
The RAF operates the largest fleet of Chinooks outside of the US, with a total of 40 plus another eight not yet in operational service.
They are based at RAF Odiham in Hampshire and have seen service in Afghanistan.
The RAF describes the Chinook as "a very capable and versatile support helicopter that can be operated in many diverse environments ranging from cold weather 'arctic' conditions to desert warfare operations".