Newspaper review: Fear of Boat Race stunt at Olympics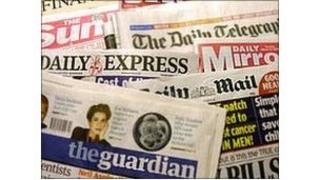 Several papers are worried that stunts like the one which disrupted the Boat Race on Saturday could mar the Olympics and the Diamond Jubilee.
The Sunsays the swimmer may have unintentionally done us a service by alerting us to what could happen.
It wants the government to bring in stiff, mandatory jail sentences as a deterrent.
TheDaily Staragrees, adding: "We cannot let the idiots ruin the Olympics for the rest of us."
Ministers are planning a new type of guaranteed pension to replace gold-plated final salary schemes, according to theDaily Telegraph.
The Pensions Minister, Steve Webb, says he has begun negotiations with major employers on the new scheme.
TheDaily Mailsays the government is planning to force people making home improvements to spend money on energy-saving improvements such as wall insulation at the same time.
Tha Mail claims officials say it is necessary to reduce carbon emissions.
The Guardiansays only half the vacancies advertised in UK Jobcentres guarantee enough hours to allow jobseekers to qualify for new benefits.
The paper says it means some families will be far harder hit by changes to working tax credits.
The Timessays there is a national revolt against government proposals for scores of huge incinerators that turn waste into energy.
It says the plans have caused several disputes between local councils.
Formula One teams have drawn up plans to abandon the Bahrain Grand Prix amid fears that security in the Gulf state will deteriorate, according tothe Times.
The paper says the storm over going to Bahrain threatens to split the sport.
Finally, one in four people has no idea who is living next door, according to an item in theDaily Express.
The paper quotes a study by a property website as suggesting 3.5 million of us have never seen the people living next door - and says it is a sad statistic.