Fuel talks with unions have resumed after Easter break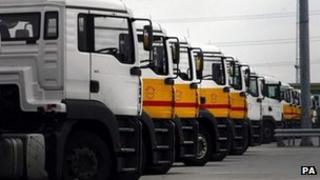 Talks aimed at averting a strike by fuel tanker drivers have resumed at the conciliation service Acas.
Leaders of the Unite union spent two days last week meeting officials from six fuel distribution firms.
Fuel drivers are threatening to strike over safety and working conditions.
Acas chief conciliator Peter Harwood said the pre-Easter talks had been "constructive" and that both sides were "positively engaged and committed to the process".
Unite represents 2,062 tanker drivers, covering 90% of drivers supplying to forecourts, and is calling for minimum standards of pay, hours, holiday and redundancy.
Under rules governing strikes, the union has to give seven days notice of any industrial action.
There were chaotic scenes at garages across the UK last week as people queued for petrol after the government advised motorists to top up fuel tanks.
The government faced criticism for giving that advice, which led to claims that it had caused panic-buying.
Calls were made for the resignation of Cabinet Office Minister Francis Maude, who advised people to store petrol in jerrycans in case of industrial action.
Military personnel are being put through an eight-day training course to enable them to take the place of striking drivers behind the wheel of commercial tankers, should a strike be called.
More than 80 drivers from the Royal Air Force have been training with one oil haulage firm.