Football clubs face call to increase policing payments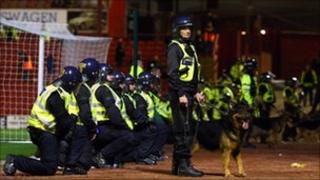 Football clubs should pay for the cost of policing a wider area around stadia, the sport's most senior police officer in England and Wales has said.
Official police policy is to only charge for policing within grounds and the area immediately around it.
But ACC Andy Holt told BBC Radio 5 live clubs should pay the full cost of managing games as trouble spreads to other city areas and transport hubs.
The Football League said taxes are paid to cover policing costs.
It said football fans should not "pay twice for policing".
Holt said it was his personal opinion that forces should be able to claim back the costs of disorder linked to games, instead of being restricted to just the policing costs near stadia.
His comments came after research commissioned by the Association of Chief Police Officers (Acpo) found a statistically significant rise in crime and disorder at least a kilometre away from grounds.
"It's my personal view that we should have full cost recovery," he told the BBC.
"We are not trying to enforce that at the moment. We are working with clubs and it's a matter for discussion in due course.
"But I would reiterate, my personal view is that professional businesses that are in the entertainment industry should pay for the full costs of their policing."
'Wigan ruling'
The issue has been a long running one between the football authorities and the forces that police the games.
It came to a head in 2008 when Wigan Athletic took Greater Manchester Police to court over how much they were being charged to police their games.
The so-called 'Wigan ruling' means forces are only able to charge for the 'footprint' - the area inside the ground and some surrounding streets.
But as crowd control has improved, police say the trouble has moved from football stadia to other parts of cities such as transport hubs. They are unable to charge clubs for that policing.
New research commissioned by Acpo, seen by BBC Radio 5 live, shows how the problems have shifted.
The Jill Dando Institute for Crime Science at University College, London, compared crime patterns around five stadia between 2005 and 2010.
It found in four of the five cases that levels of crime and disorder rose significantly on match days compared to similar non-match days at least a kilometre from grounds.
"In general, what the findings told us was there are these patterns, these higher than normal counts of crime that are occurring in areas that extend beyond what the football clubs are currently being held responsible for," Justin Kurland, a research associate said.
"In general what we saw were increased levels of violence against the person offences. In addition to that we saw theft and handling increases.
Football opposition
"We did as much as we could to rule out that other factors contributed to differences and when you boil it down it does appear that the only difference between these sets of days that we looked at, one type of day has a football match occurring…and on the non-match comparison days there is no match happening."
The idea that football should pay any more though has met with strong opposition from within the game.
In a statement the Football League said: "Costs incurred away from the ground that are deemed necessary are covered by the state - it's what people pay their taxes for, with English professional football contributing more that £1bn a year to the Treasury, let alone the tax paid by the millions of fans who attend Premier League and Football League games during the season, and who are of course entitled, like all citizens, to police services as they go about their lawful business.
"We are always happy to discuss how it might be possible to further reduce costs, or indeed how football can help the police tackle youth crime, but we fail to see why football fans should pay twice for policing."