Newspaper review: Heywood China death intrigues papers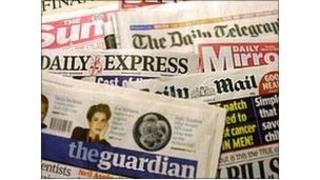 The circumstances surrounding the death of British businessman Neil Heywood in China last year intrigue many papers.
The Times says Mr Heywood is thought to have delved too deeply into the affairs of an influential Chinese family.
The Daily Telegraph says Mr Heywood formed a "close relationship" with a high-ranking Chinese politician's wife who is now suspected of killing him.
The Financial Times says this is the Chinese Communist Party's biggest political crisis in two decades.
'Personality politics'
The Telegraph reports David Cameron is relaxed about publishing his tax returns, after Chancellor George Osborne called for more transparency.
The paper says the move is likely to lead the prime minister to make further disclosures about his personal wealth.
The Daily Express says this could result in more US-style "personality politics".
It said Republican US Presidential candidate Mitt Romney's admission about his low tax returns caused a furore.
Torture allegations
The Independent reports US intelligence agencies have won a Washington court battle to keep details of the UK's role in "extraordinary renditions" a secret.
The paper reports the CIA and FBI do not have to tell UK MPs about any alleged torture of terror suspects.
The Sun commends the European Court of Human Rights after it backed the extradition of preacher Abu Hamza and four other terror suspects to the US.
The paper says it is a "scandal" the case took nine years to get this far.
The Daily Mail provides an update on Briton Ian Usher - who four years ago made headlines after putting his entire life up for sale on auction site eBay.
Since then, he has not done too badly as he now owns his own island, has learned how to fly, published a book and is set to have his story made into a film.
The Mirror reports visitors to London's Madam Tussauds have been "groping" the Duchess of Cambridge's new waxwork.
Apparently Max Benson, 11, sums up the reason why. "She's hot," he proclaims.