Non-toxic glitter not always safe to eat, warns FSA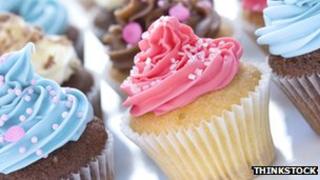 Not all glitters and dusts used on food are safe to eat, the Food Standards Agency (FSA) has warned .
The food safety watchdog says products marked just "non-toxic" are not always suitable for consumption.
And it is advising food businesses and consumers to use only glitter that is clearly marked as safe to eat and which complies with EU food-additive rules.
The FSA has acted to clarify the guidance after consumers contacted the agency, confused by unclear packaging.
Colin Houston, head of the agency's incidents unit, said: "Given the revival of the good old-fashioned cup-cake and the increasing popularity of home baking, the guidance provides a timely reminder to businesses and consumers to make sure they choose the right glitters and dusts and use them safely."
'Inadequate testing'
Edible glitters and dust must be labelled with the name or E-number of any additives used, and state they are "for food".
Permitted additives include chemicals such as mica and titanium dioxide.
Non-toxic glitters may be used for cake decoration, but should not be eaten, as they may not have been adequately tested, said Mr Houston.
The packaging should indicate they are for "food contact", and include instructions for use.
The FSA says it has no records of anyone falling ill from eating non-toxic glitter.