London 2012: Young volunteers to get Olympic Games tickets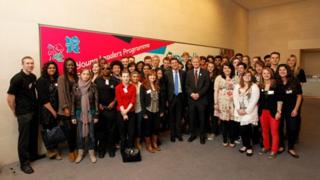 A group of young Olympics volunteers will be going to the Games, after a sponsor announced they would give them tickets to watch an event.
London 2012 partner BP will allocate tickets to 74 youngsters, as a reward for signing up to help.
"They will be good tickets. We don't know the details but it goes without saying," said spokesman Mike Sharrock.
The announcement was made at a 'graduation' ceremony held for the Young Leaders in London.
The programme is an initiative to get youngsters involved in the Games and they have spent two years being mentored by BP employees.
Seb Coe, chairman of Games organisers Locog, and Olympic champion Jonathan Edwards congratulated the youngsters at an event at the British Museum.
Ticket allocation
In July they will be part of a crew of 70,000 Games Makers who will work to make the Games happen. Games Makers will not be given free tickets to watch events.
"We had the opportunity to buy tickets as partners and are using them in a number of ways," Mr Sharrock told the BBC.
"We're going to use some for the people who make a real difference and the Young Leaders are a part of that."
BP said that it will need to work out which shifts the volunteers will be working and try to allocate tickets during their rest days.
"It seems the right thing to do. They are all going to be at the Games as volunteers so we are really happy to do that," Mr Sharrock added. "There is quite a bit of work to do to map that jigsaw."
The youngsters have already been working on projects delivered by youth charities vinspired , the Dame Kelly Holmes Legacy Trust and Aberdeen Foyer .
"A lot of the volunteers are from disadvantaged backgrounds," former triple jumper Edwards said.
"None of them have been born with silver spoons in their mouths, so this programme will change their perceptions in life. Their ambitions will be greater now than they were two years ago."
'Pretty cool'
Volunteer Hally Nguyen, 18, from Newham will be working with the accreditation team based at the Uniform and Accreditation Centre during the Olympics.
She said she was delighted to be given the chance to see a sporting event.
"It's a surprise present," she said. "I'm over the moon. It's pretty cool. Being there and being part of the Games was the biggest opportunity, I could always watch the highlights.
"But I might get a ticket to an event I wouldn't normally watch and I might enjoy it."
Miss Nguyen, who is hoping to go to Bristol University to study maths, economics and psychology, was paired with BP employee Julie Amos, 40, who works in Canary Wharf.
She was given one-to-one training, had work experience and was mentored to put on a talent show in East Ham as part of the programme.
"I've been able to put something back into the community," she said.
"I now value team work, my communication skills have improved and I'm now more confident."
Mrs Amos said she that when she applied to be a mentor, she did not expect to make such a good friend.
"At first when she talked you could hardly hear her and now she can speak on stage," she said. "It's nice to see someone develop."
The volunteers were chosen by local authority teams on the basis that they would not otherwise have had the opportunity to participate, their commitment to volunteering and their potential to benefit from it.
They were selected based on their proximity to BP's four hub locations in Aberdeen, Hull, London and Sunbury-on-Thames.
Volunteers were required to be 16 years old on 1 January 2010, so that they would be old enough to be Games Makers in 2012.