Hours spent driving children about, AA survey suggests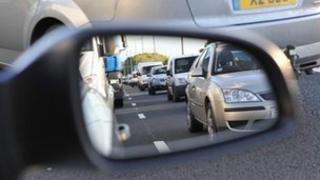 A third of parents spend between 10 and 49 hours a month per child ferrying their children about by car, a survey suggests.
The AA Driving School poll of more than 6,000 parents found a minority (2%) spent at least 50 hours a month.
The motoring organisation said this was equivalent to many people's annual leave of 25 days a year.
Mark Peacock, head of AA Driving School, said: "Mum and dad's taxi is still very much in operation."
Spending on hobbies
He added: "Besides taking up a lot of time, parents' driving habits can influence the drivers their children will become later in life so it's important they set a good example on these journeys.
"Hopefully many of those hours spent driving the children to their activities will be repaid when they are old enough to drive themselves and keen to get behind the wheel - even if it's just popping to the supermarket to help their mum out."
AA Driving School said that families with more than one child could spend much longer driving their children around.
The AA/Populus research also found that just under a fifth (19%) of parents said they spend at least £1,200 a year per child on hobbies and activities, including the transport costs of getting them there.
Parents in London appeared to fork out the most, with one in 20 spending more than £200 per child every month on such activities.
AA Driving School said that was equal to parents spending £43,200 for each offspring through their childhood up to the age of 18.