Newspaper review: Riot shop arsonist jail term welcomed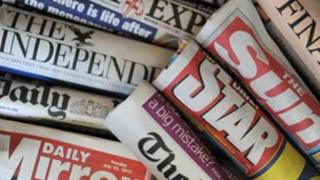 Many papers are satisfied with the 11-and-a-half year jail term given to rioter Gordon Thompson who burned down the iconic Reeves furniture store in Croydon.
The Sun described the destruction of the 144-year-old store during last summer's violence as "the most appalling act of mindless evil".
The Daily Express says the liberal consensus blames society for the riots but it points out that Thompson, 34, was not a "disadvantaged youth".
The Daily Mirror says he deserves jail.
The government comes under attack from several papers for its planned cap on tax reliefs for charitable donations.
'Big society'
The Daily Mail believes it makes a nonsense of David Cameron's desire for a community-orientated "Big Society".
The Daily Mirror bluntly states : "It takes a government of staggering incompetence to demand charities take on a bigger role - and then make it harder for them to raise funds."
The Times warns the government has made a "substantive" mistake with the plan.
The Daily Telegraph leads with a warning from the International Monetary Fund that the UK's ageing population is threatening a "pensions time-bomb".
The IMF apparently believes western governments have underestimated how quickly lifespans will rise and this could cost them up to £750bn.
The Times has discovered that thousands of patients were discharged from hospital in the middle of the night.
It says the scandal stripped the dignity of the most vulnerable.
Boy bands and Disney
British boy band One Direction may be successful in the US, but the Sun reports they are being sued by an American band with the same name.
The paper reminds us it's not the first time an X-Factor band has faced trouble over copycat names as 2011 winners Little Mix were first called Rhythmix.
And the Guardian focuses on the woes of the Disney company with its report on Disneyland Paris.
It celebrates its 20th anniversary this year, yet is 1.9bn euros in debt.